VSU beats VUU; sets hopes on NCAA
Fred Jeter | 11/15/2019, 6 a.m.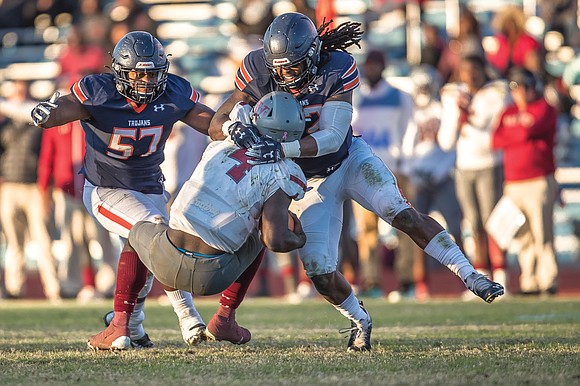 Virginia State University has taken care of business on the football field.
Now the Trojans must wait and hope.
By edging Virginia Union University 27-24 in overtime last Saturday at Rogers Stadium in Ettrick, VSU is positioned for — but not assured — an NCAA Division II playoff bid.
Word on that will come the evening of Sunday, Nov. 17, when the seven-team, Super Region 2 field is announced.
VSU was ranked No. 7 in the latest poll. If nothing changes, that might result in the Trojans traveling to No. 2 Valdosta State University in Georgia for an initial playoff round game on Saturday, Nov. 23.
Still, several uncertainties remain.
For example, VSU's apple cart could be upset if unranked Fayetteville State University defeats Bowie State University in the CIAA championship game this Saturday, Nov. 16, in Salem.
It is possible the VSU Trojans could be dealt a rematch with No. 3 Bowie State in Maryland for round one of the NCAA.
Bowie State, ranked third in the poll, is assured a playoff berth whether they win or lose in Salem. A Fayetteville State victory at the CIAA title game would send the Broncos to the playoffs as the CIAA automatic qualifier.
There also is the worry a lower-ranked team might "jump" the Trojans in the final poll.
No. 9 Albany State University of Georgia (7-3) faces Miles College of Alabama (8-2) this Saturday in the Southern Intercollegiate Athletic Conference championship. The SIAC does not have an automatic qualifier into the NCAA, but this could turn out to foil VSU.
Overall, CIAA teams have not had much success in the NCAAs over time and that could work against the conference getting a second bid for the playoffs, especially if it's two at-large bids.
In any event, VSU fans should prepare to travel. It is highly unlikely the Trojans would be granted a home playoff game.
VSU finishes its regular season 8-2 under fourth-year Coach Reggie Barlow. The team's losses were to FCS Norfolk State University in the season opener and to undefeated Bowie State.
The VUU Panthers finish 7-3 in Coach Alvin Parker's second season. All three Panthers' setbacks were to quality opponents — Lenoir-Rhyne University (10-0), Bowie State (10-0) and VSU.
The difference last Saturday in Ettrick was Nick Woolfolk's right foot. His 34- yard field goal in overtime enabled the Trojans to rejoice.
"Nick the Kick" Woolfolk is a junior from Richmond's Thomas Jefferson High School. He also plays VSU baseball and narrowly missed making the Trojans' basketball team as a walk-on.
VSU tied the game at 24-all when Cordelral Cook hit Javon LaPierre for a 36-yard touchdown with 1:29 left.
In overtime, VSU struck first, with Woolfolk splitting the uprights. VUU's opportunity to match or pass the Trojans ended with an incomplete pass on fourth down by quarterback Khalid Morris.
Cook was outstanding, as usual, in the victory over VUU. The third-year starter from Atlanta passed for 211 yards and ran for another 84.
Tabyus Taylor rushed for 103 yards and a touchdown for the Panthers.
Morris threw for 143 yards and ran for 77, but the former Thomas Dale High School star was intercepted twice and sacked three times.
If VSU receives good news Sunday, it will mark the Trojans' third NCAA invitation. VSU first went to NCAAs in 2014 under
former Coach Latrell Scott. The Trojans defeated Long Island University-Post before losing at Bloomsburg University of Pennsylvania.
In 2017, the Trojans won the CIAA title before falling to the University of West Georgia in the NCAA first round.
For those wishing to be positive about VSU's fate, this season's Division II championship will be determined Dec. 21 in McKinney, Texas.