Bigger stakes for VUU-VSU football rivalry
Fred Jeter | 11/3/2017, 2:06 a.m.
Area bragging rights and much, much more will be at stake Saturday, Nov. 4, when Virginia Union and Virginia State universities commence to popping pads at Rogers Stadium in Ettrick.
In a spirited gridiron rivalry that has been waging for well beyond a century, seldom has a game meant more.
The 2 p.m. matchup will feature both CIAA divisional championship and NCAA Division II playoff implications.
Here's the deal, first for VSU: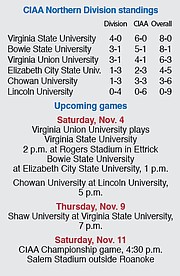 The Trojans are eyeing their first perfect season since going 9-0 in 1929 under Coach H.D. Martin.
With a victory, VSU can clinch the CIAA Northern Division crown, a berth in the CIAA title game and very likely a first round home game on Nov. 18 in the NCAA Division II Super Region 2 playoffs.
Even with a loss, VSU still might win the CIAA Northern Division championship on a tiebreaker, and likely would qualify for the NCAA Super Region 2 eight-team draw.
VUU has less of a margin for error.
A loss would likely drop the curtain on the Panthers' campaign. A victory, however, could place VUU in a tiebreaker situation for the CIAA North Division title and also present a reasonable shot at a second NCAA bid in three years.
Bowie State University, coming off an 86-14 annihilation of Lincoln University of Pennsylvania, is the third team in the Northern Division contending for the CIAA title and an NCAA bid.
The tune-ups: VSU rolled to its eighth straight win this year and 12th in a row over two seasons with a jittery 26-23 win last Saturday at Chowan University.
The game will be remembered most for senior tailback Trenton "Boom" Cannon smashing the VSU career rushing record held by George Leonard. Flashing his uncanny ability to change direction at full speed, Cannon zigzagged for 164 yards and two touchdowns and is averaging 8.5 yards per carry.
It was a sloppy effort, however. The Trojans were penalized 15 times for 136 yards and needed a late-game fumble recovery near their own end zone to avoid upset.
On homecoming weekend, VUU rallied in the second half of last Saturday's game to defeat Elizabeth City State University 37-21.
Gustavious Dames put the Panthers ahead to stay with a third-period, 100-yard kickoff return. Dames' dynamic dash broke the VUU kickoff return record of 97 yards set by Mike Dolby in 2005.
On the sidelines: A former NFL receiver, VSU Coach Reggie Barlow quickly caught on to what it takes to win in Ettrick. Coach Barlow's Trojans were 9-2 his first year, winning their last four games.
Overall, Coach Barlow is 17-2 wearing orange and blue and hasn't lost a game since mid-October 2016.
VUU Coach Mark James is 26-14 in four seasons since pumping fresh life into a program that had lost its bounce. Still, Coach James' 2016 season saw a poor finish, with speculation about his future.
This season, despite having to replace his starting quarterback and tailback from 2016, the Panthers have impressed, especially on offense, with Darius Taylor emerging as a standout quarterback.