State Board of Elections investigation continuing into city Electoral Board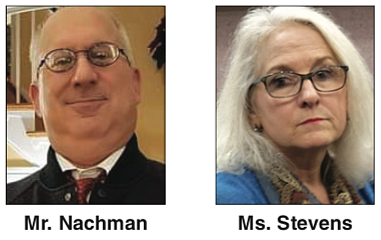 The state Board of Elections is to meet Tuesday, April 20, to determine whether allegations involving two Democratic members of the Richmond Electoral Board are to be referred to the Richmond Circuit Court for further action.
The state board has requested written statements from the complainants as well as from the two city board members— James M. Nachman, chair of the city Electoral Board, and Joyce K. Smith, its vice chair.
Under state law, only the court, which appoints the city Electoral Board, can remove members for cause. A referral from the state board would require the Circuit Court to hold a hearing at which either a judge or a jury would hear evidence and decide whether removal is merited.
Mr. Nachman said he would respond to the allegations that center largely on claims that he and Ms. Smith acted improperly in some aspects of counting the votes from the Nov. 3 election.
The Richmond City Republican Committee has spearheaded the complaints, which Mr. Nachman said are based on inaccurate information and amount to "malicious and defamatory" claims that would not stand up to scrutiny.
For example, he noted that one complaint alleges that he and Ms. Smith improperly opened sealed envelopes containing precinct results early on Nov. 4 without witnesses. Mr. Nachman said two staff members were present and that the work was done to collect results from precincts whose unofficial results had not been reported on Election Night. He said he and Ms. Smith gathered information, returned the voting machine tapes to the envelopes and resealed the envelopes with their signatures as the two staff members watched.
He noted that state law requires the canvass of election results, including the opening of envelopes, to start the day after the election, but does not specify a time.
Mr. Nachman said the third member of the city Electoral Board, C. Starlet Stevens, a Republican, had left and could not be reached. He noted that he and Ms. Smith constituted a quorum of the board. He also noted that he and Ms. Smith relied on advice from veteran Richmond Voter Registar Kirk Showalter, who was fired earlier this year on Feb. 1.
He also has described as false a claim from a former precinct chief, Ames Russell, that Mr. Nachman and Ms. Smith opened the sealed envelope for Precinct 115.
"I don't know who did that, but we did not," Mr. Nachman said.
He and Ms. Smith at a subsequent board meeting voted to dismiss Mr. Russell, though Mr. Russell had received high marks for his work.
Another allegation is that Mr. Nachman also performed part of the canvass at his home without observers.
Mr. Nachman has confirmed that he did so with help from his wife, who was sworn in as an elections officer. He said he did so only because he and the other two board members, as well as Ms. Showalter, were in quarantine due to COVID-19 and the city Voter Registrar's Office also was closed. He said that he invited Ms. Stevens to participate, but she was too ill. He said Ms. Stevens consented to his action, but she now denies that.
Another complaint alleges that after Ms. Showalter was fired, Mr. Nachman and Ms. Smith improperly named Jerry Richardson as interim registrar without the required notice to Ms. Stevens. The board's minutes, however, show that the board, including Ms. Stevens, voted to name Ms. Richardson acting registrar on Feb. 26.
Mr. Nachman said that the Republicans have "created a mess" without justification in retaliation for the firing of Ms. Showalter.