Rally-goers call for reinstatement of parole in Virginia
George Copeland Jr., Ronald E. Carrington and Jeremy M. Lazarus | 8/19/2021, 6 p.m.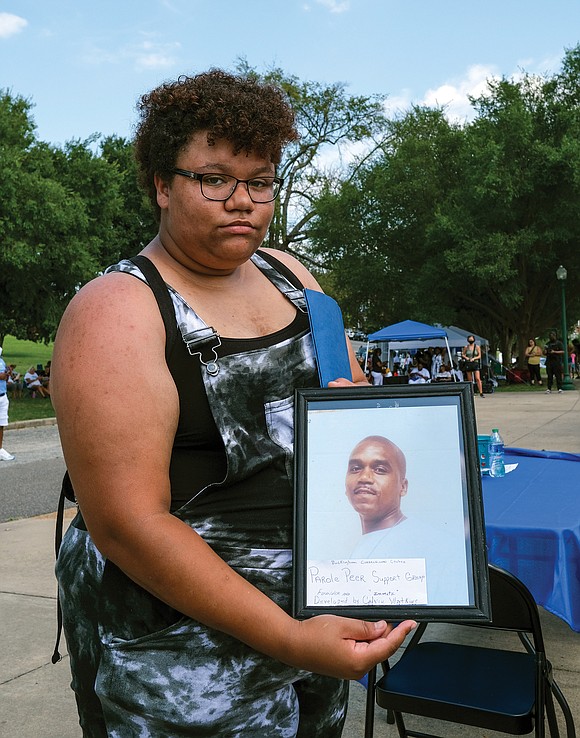 "He was incarcerated when I was young, and I can't remember a day with him not behind bars."
These words were shared by 19-year-old Savannah Watkins as part of a letter she and her sister wrote about their father's incarceration since 2004 after being convicted of murder. Hers was just one testimonial among many given last Saturday during a rally in Chimborazo Park about the impact of incarceration on inmates and their families and calling for the restoration of parole in Virginia.
Parole was abolished in Virginia in 1995. Anyone who has committed a felony is required to serve at least 85 percent of his or her sentence with the possibility of earning credit toward early release.
While many personal experiences were shared by people who were formerly incarcerated and family members of those behind bars, the stories carried common themes: The poor state of Virginia's criminal justice system, the knock-out effect incarceration has on families and communities and the need for rehabilitation over punitive treatment.
Ms. Watkins was among 100 or so people at the rally organized by the nonprofit Freedom Over Everything, which was started in 2018 by inmates at the Buckingham Correctional Center.
Calvin Watkins, Ms. Watkins' father, serves as founder and developer of a parole peer support group at Buckingham.
Through the years, Freedom Over Everything has gathered a network of advocates and like-minded groups to their cause and built an action plan for prison reform and a better future for the incarcerated after time served.
The reform initiative includes reinstating discretionary parole in Virginia and reducing the amount of time someone is required to serve to 65 percent of the sentence with good time credits toward early release.
These measures were in place before parole was abolished under former Republican Gov. George Allen in 1995.
"How long can Virginia continue to operate as a state whose mentality is 'lock them up and throw away the key,' when in fact the numbers show that the recidivism rate here in Virginia is at an all-time low," Freedom Over Everything founders asked in a statement.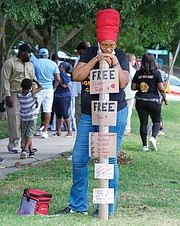 While supporters of the ban on parole claim that it is responsible for Virginia ranking as the state having the fourth lowest violent crime and the lowest recidivism rate in the United States, parole reform advocates argue that the data speaks more to the desire of the formerly incarcerated to rebuild their lives for the better and not repeat past mistakes.
As the COVID-19 pandemic spread last year, state lawmakers approved a proposal by Gov. Ralph S. Northam giving the director of the state Department of Corrections the authority to consider early release of inmates with less than a year left to serve on their sentences. In- mates convicted of violent felonies or sexually violent offenses were not eligible. More than 2,100 state inmates were released early from state and local facilities. But that early release plan expired on July 1.
That effort, however, gives Freedom Over Everything hope for the possibility of parole restoration.
"When we put hope in sight of an incarcerated man's future, you will see him transform himself into someone that will be productive," the FOE founders said. "If you give an incarcerated individual nothing to work toward, this individual will develop an 'I don't care attitude.'
"The incarcerated men here at Buckingham Correctional Center ask that the citizens of Virginia believe that we deserve a second chance; we are not just talking the talk but are walking the walk as well."
At the rally, advocates also talked about protecting those awaiting release, integrating former inmates back into society and helping them restart their lives. From Bridging the Gap in Virginia aiding the formerly incarcerated in restoring their rights to the Virginia Defenders for Freedom, Justice and Equality spotlighting the need to for vaccinations for inmates and expanding the early release program, those present at the rally seemed to have a common refrain — second chances.
"I feel like everyone deserves a second chance, even if you feel like your crime was committed in such brutality," Ms. Watkins said. "I feel like everyone deserves a chance, no matter what."