Charles A. Gill Sr., who shared a big lottery win to help the Richmond community, succumbs at 63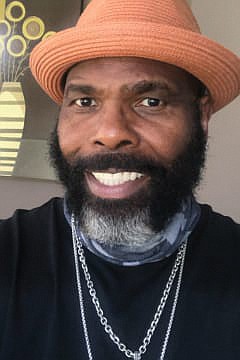 Struggling to make ends meet for his family, Charles Allen Gill Sr. sought to change his luck and became an instant millionaire in the process.
His stroke of good fortune came when he drove with a brother to Washington, D.C., three days before Christmas in 1993 to play the lottery.
The Chesterfield County resident split a $90 million jackpot with another person who also beat long odds and, like Mr. Gill, picked the six numbers drawn in the Powerball game on Wednesday, Dec. 22, 1993.
Among other things, the big win enabled Mr. Gill and his wife, Wanda E. Gill, to join with Richmond City Hall and Richmond Public Schools to build the first indoor recreation center in the Fairfield Court public housing community where Mr. Gill grew up.
The Charles and Wanda Gill Community Center stands adjacent to Fairfield Court Elementary School on Phaup Street and is an enduring memorial to Mr. Gill following his death on Thursday, Aug. 19, 2021.
He reportedly succumbed to COVID-19. He was 63.
"He was the best," said a grief-stricken Mrs. Gill.
Final tributes are to be paid to the Richmond native 11 a.m. Saturday, Aug. 28, at the United Nations Church, 214 Cowardin Ave. The Rev. Angelo Chatmon is to officiate. The U.S. Army veteran is to be interred in Quantico National Cemetery.
Mr. Gill, who had been a barber and worked at the Defense General Supply Center, said he was in between jobs when he made the drive to Washington. He said at the time that he bought $15 worth of tickets using a combination of numbers from his birthday and that of his 4-year-old daughter, Tionna M. "Tee" Gill.
He was in bed watching the late news when he saw the winning numbers come up — 1, 3, 13, 15, 29 and the Powerball, 12. He said his wife didn't believe him when he told her they had won, so he said he just turned over and went to sleep.
But it was all true, and resulted in the Gills receiving a check, after taxes, for more than $1.2 million each year for 20 years. (There was no lump sum opportunity at the time.)
Mr. Gill was able to fulfill a dream of taking his family to Paris and building a dream home in Powhatan County. He also operated for years a limousine company that is now closed.
The Gills, who regularly contributed to youth-serving charities, also provided $750,000 to build the new center in Fairfield Court that he hoped would provide programs to halt youth violence.
"I want to do something," he explained. "Those young kids are killing each other. They've got to wake up. I'm going to do what I can to stop it."
Despite making the contribution, the Gills were frustrated that the center did not open until late May 1999 due to city-created delays, budget shortfalls and other snafus.
Today, the building serves as classroom and recreation space for students at the elementary school and as an indoor recreation space during the winter and spring for Luck Field Playground, a nearby outdoor-only recreation area.
Richmond School Board Chair Cheryl L. Burke called the building "an important element of this community." She said that during the past year when both the elementary school and public recreation were shut down, the building was temporarily used for storage.
But the building is being cleaned out as the school prepares to reopen for in-person classes next month, she said.
Along with his wife of 28 years and his daughter, Mr. Gill's survivors include his son, Charles A. "L.G." Gill Jr.; his parents, Junious and Helen Gill; a brother, Edward Gill; a sister, Mary Glo Taylor; and a granddaughter.