Black History Month events calendar this week
Compiled by Ronald E. Carrington | 2/11/2021, 6 p.m.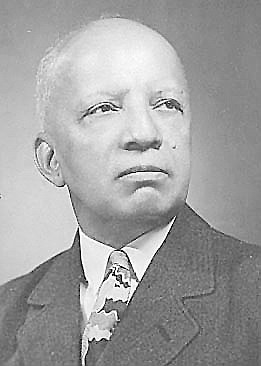 A variety of events are planned in and around Richmond for Black History Month.
The annual observance originated as "Negro History Week" in 1926 with Dr. Carter G. Woodson, a Virginia native, and the Association for the Study of African-American Life and History, which Dr. Woodson helped to found.
It has since expanded to a monthlong observation honoring the contributions and accomplishments of Black Americans.
Some of the month's events include:
Thursday, Feb. 11, 6 to 7 p.m., African-American Read-In. Literature and fine arts come together with notable figures from Greater Richmond giving prose and poetry readings in pairings with works by African-American artists. Virginia Museum of Fine Arts. Free, virtual program. Zoom registration required. Second of four Read-In days. Details: vmfa.museum or (804) 340-1400.
Thursday, Feb. 11, 5 to 6 p.m., National Museum of African American History and Culture, In Dialogue: Social Smithsonian Objects and Social Justice — Race and Medicine. Leslie P. Walker, head of the NMAAHC's academic and social justice department, and Beth Evans, educator at the National Portrait Gallery, will give virtual talk on race and medicine as represented by objects in the collection. Free. Registration required: https://nmaahc.si.edu/events/upcoming.
Monday, Feb. 15, 6 p.m., "The True Status of Descendants of Enslaved Afrikans in America: A Lemon's Legacies Porch Talk." Attorney Jaaye Person-Lynn talks about the historical status of the enslaved population in the United States and their descendants under the law. Sponsored by The Lemon Project at the College of William & Mary in conjunction with the Williamsburg Regional Library. Details and registration: https://events.wm.edu/event/view/lemonproject/120708
Tuesday, Feb. 16, 6:30 to 8 p.m., "A Celebration of Black History Featuring Victoria Eady Butler," sponsored by the Cavalier Chapter of the American Business Women's Association. Virtual talk by Victoria Eady Butler, the great-great-grand-daughter of Nearest Green, the first African-American master distiller on record and mentor to Jack Daniels. Registration required. www.eventbrite.com (Cavalier ABWA-Celebrate Black History) Details: Sylvia at (804) 387-3702.
Tuesday, Feb. 16, 7 p.m., "Reality Pedagogy: Teaching and Learning from the Students' Standpoint," a Zoom keynote address by best-selling author Dr. Chris Emdin, associate professor of science education at Columbia University's Teachers College. Author of "For White Folks Who Teach in the Hood and the Rest of Y'all Too." Sponsored by the Virginia Commonwealth University School of Education in celebration of the 10th anniversary of the RTR Teacher Residency program. Register at bit.ly/RTRkeynote.
Thursday, Feb. 18, 6 p.m., "Finding My People: African-American Genealogy Workshop." Dr. Jajuan Johnson, a Mellon postdoctoral research associate at the College of William & Mary, will talk about resources to help research African-American family history. Sponsored by The Lemon Project at the College of William & Mary in partnership with the Let Freedom Ring Foun- dation. Details and registration: https://events.wm.edu/event/view/lemonproject/120737
Saturday, Feb. 20, 2 to 3 p.m., Black History Month Highlights, The Valentine, 1015 E. Clay St. Take a live, interactive Zoom tour exploring highlights and stories from the museum's core exhibit, This is Richmond, Virginia." Free. Details and registration: www.thevalentine.org or (804) 649-0711
Saturday, Feb. 27, 3 to 7 p.m., and Sunday, Feb. 28, 3 to 6 p.m., Black Book Expo, sponsored by Elegba Folklore Society, 101 E. Broad St. Featured author: Dr. Ronald A. Crutcher, president of the University of Richmond and author of the new memoir "I Had No Idea You Were Black: Navigating Race on the Road to Leadership." Other celebrity guest authors will make presentations and sign their books. Entertainment and refreshments featured on Saturday. COVID-19 protocol in place. Details: www.efsinc.org or (804) 644-3900.
Virginia Museum of History & Culture
The museum is hosting a series of virtual events that are free, but registration is required. Details: virginiahistory.org/events.
Thursday, Feb. 11, noon, The Story of Virginia. Historian Ric Murphy, author of "Arrival of the First Africans in Virginia," will talk about the arrival of the first 32 Africans in 1619 and how their arrival was shrouded in controversy because of colonialism, treason, piracy, kidnapping, enslavement, and English law. Part of Banner Lecture series. Program will be livestreamed on the museum's Facebook and YouTube channels.
Tuesday, Feb. 16, 7 p.m., "Searching for Black Confederates: The Civil War's Most Persistent Myth," an interactive Zoom presentation by guest historian Kevin Levin.
Thursday, Feb. 18, 7 p.m., "Hidden Figure of GPS," a conversation with Dr. Gladys West, a trailblazing mathematician who helped develop GPS and other satellite mapping technology during her career at the Naval Surface Weapons Center at Dahlgren. She was one of the first two Black women to join Dahlgren in 1956.
Thursday, Feb. 25, 7 p.m., "Activism from Home 101," a virtual panel discussion with change-makers featured in the museum's recent exhibit, "Today's Agents of Change." Panelists will offer insights from their experience and discuss how to tap into your passion, get involved in a cause and conduct advocacy work from home.
The Richmond Public Library
presents a series of virtual events in celebration of Black History Month. All events are free and require registration by going to RVAlibrary.org/events or call (804) 646-4867.
Thursday, Feb. 11, 6 p.m., "The Other Side of the Coin: Race, Generations and Reconciliation," a documentary screening and discussion about race in America with documentarian Frederick Murphy.
Tuesday, Feb. 16, 6 p.m., "Black Oscars," a virtual talk with Dr. Frederick W. Gooding Jr., associate professor at Texas Christian University and author of the book, "Black Oscars: From Mammy to Minny, What the Academy Awards Tell Us About African Americans."
Virginia State University and Chesterfield County present the 32nd Annual Black History Month Celebration, a variety of free, virtual programs. Register for any of the events below by going to www.chesterfield.gov/4256/Celebration-Events
Friday, Feb. 12, 10:30 to 11:15 a.m., Uncle TyRone gets you laughing and dancing with music, friends and good vibes. Video is available for 14 days after premiere.
Saturday, Feb. 13, 2 to 3 p.m., Queen Nur: Sweet Potato Pie and Such. Folk tales from the African and African-American oral tradition. Program is designed for participation.
Monday, Feb. 15, 7 to 8 p.m., Dr. Vanessa Holden, professor in the departments of History and African American and Africana Studies at the University of Kentucky, discusses her book, "The Black Family: Representation, Identity and Diversity." Video available for 30 days after premiere.
Wednesday, Feb. 17, 7 to 8 p.m., An evening with Jason Reynolds and Dr. Ibram X. Kendi discussing their collaboration on "Stamped: Racism, Antiracism and You," a young adult adaptation of Dr. Kendi's "Stamped from the Beginning: The Definitive History of Racist Ideas in America."
Thursday, Feb. 18, 7 to 8 p.m., The Jazz of Plunky and Oneness. Musician J. Plunky Branch gives a short talk on jazz and the Black experience followed by a performance with his band. Video is available for 30 days after premiere.
Friday, Feb. 19, 8 a.m. Chesterfield County Annual Scholarship Recognition. A virtual program to recognize six outstanding Chesterfield County high school seniors and the business community for their achievements and contributions. Program can be viewed on Comcast Channel 98, Verizon Channel 28, and live streamed on www.chesterfield.gov and the county's YouTube channel.
Saturday, Feb. 20, 2 to 3 p.m., Let it Shine! Bright Star Theatre introduces children to significant events and notable names of the Civil Rights Movement. Registration begins Feb. 6. Video is available for seven days after premiere.
Monday, Feb. 22, noon to 12:30 p.m., Tour of the Mississippi Civil Rights Museum. This virtual tour of the exhibits at the museum in Jackson, Miss., will provide information about the Civil Rights Movement in Mississippi. Registration begins Feb. 8. Video is available for 30 days from premiere.
Through June, Black History Museum and Cultural Center of Virginia, 122 W. Leigh St. "VIRGINIA JAZZ: The Early Years," a comprehensive exhibition highlighting seven decades of Virginia artists and their contributions to the development of jazz as an art form from the early 1900s through the 1960s. Visitors also may share their family stories and inspire a new generation to keep jazz alive. Details: www.blackhistorymuseum.org or (804) 780-9093.