Heisman winner DeVonta Smith has made his way into the history books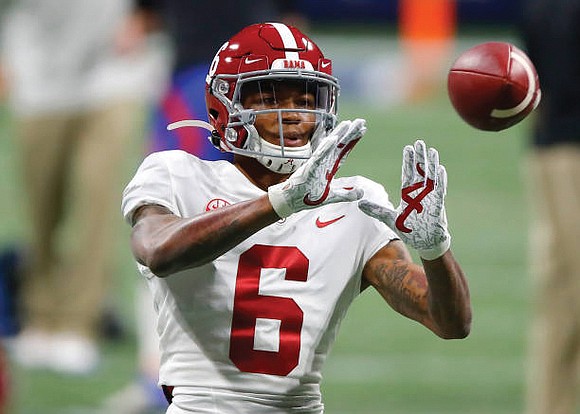 For many decades, it seemed wide receivers need not apply for the Heisman Trophy. Then along came DeVonta Smith to change attitudes.
The University of Alabama sensation is prolific at breaking records and shattering preconceived ideas.
Known as the "Slim Reaper" for his svelte 6-foot-1, 175-pound frame and penchant for tormenting defenders, Smith has added the Heisman to a growing trophy collection. He is only the fourth receiver to win college football's highest honor.
On Dec. 29, he became the first wide receiver in history to be named the Associated Press Player of the Year.
Fans will have a hard time taking their eyes off jersey No. 6 during the finals of the College Football Playoff National Championship on Monday, Jan. 11.
At a school with a tradition of great receivers, Smith has rewritten the "Roll Tide" record book.
His career totals of 3,750 receiving yards and 43 touchdowns are all-time firsts at the school in Tuscaloosa, Ala. The 43 touchdowns are also a Southeastern Conference record.
Smith is headed to the national championship in Miami with a powerful wind at his back. He had seven catches for 130 yards and three touchdowns against the University of Notre Dame on Jan. 1 and
15 receptions for 184 yards and two touchdowns against the University of Florida in the SEC Championship game on Dec. 19.
For the season, the Louisiana native has 105 grabs for 1,641 yards and 20 scores.
Smith's sensational playing comes in a season in which Alabama might have been caught short on standout receivers. The program lost wideouts Jedrick Willis and Jerry Jeudy when they left campus early and became NFL first round draft picks.
Further decimating the receiving corps, Jaylen Waddle, another prime NFL prospect, suffered a broken leg Oct. 24 against the University of Tennessee and was lost for the season.
The Heisman Trophy, awarded to college football's premier player, has been mostly a running back and quarterback domain since its inception in 1937. The only receivers previously winning the Heisman have been the University of Michigan's Desmond Howard in 1991, Notre Dame's Tim Brown in 1987 and the University of Nebraska's Johnny Rodgers in 1972.
Smith could have entered the NFL draft last year and would have surely been a first round pick.
Instead, out of loyalty to the Alabama program, he returned for a farewell tour that has made its way into the gridiron history books.