Alabama claims college football national crown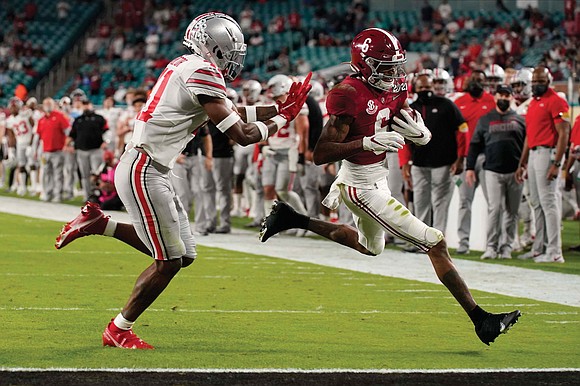 The University of Alabama ran the table and never broke stride in doing so.
Coach Nick Saban's Crimson Tide dominated this season from start to finish.
Punctuating a 13-0 campaign was Alabama's 52-24 pasting of Ohio State University in the College Football Playoff National Championship game Monday night in Miami.
Alabama is clearly the top team this season and perhaps of all time.
"I think this is the best team to ever play," said Alabama quarterback Mac Jones after pass- ing for 464 yards and five touchdowns.
Jones called the rout of Ohio State "the icing on the cake."
The quarterback's lead role was shared by wide receiver DeVonta Smith and running back Najee Harris.
Smith, the Heisman Trophy winner, made 12 receptions for 215 yards and three touchdowns. Harris ran for 79 yards and two touchdowns and caught passes for another 79 yards and a touchdown.
Smith was named Offensive Player of the Game while lineman Christian Barmore earned Defensive Player of the Game accolades.
Earlier, Jones received the Davey O'Brien Award for the nation's top quarterback while Harris was presented the Doak Walker Award as the premier running back.
The 13th win over OSU went much like the previous 12.
Alabama compiled 621 yards total offense with 33 first downs against the Buckeyes (7-1) and led by 35-17 at halftime.
On the season, the Tide averaged 49 points and 542 yards offense.
Barmore, who had a sack and two other tackles for losses, also believes the Tide is the team for the ages.
"We didn't hear the outside noise," he said. "We ignored the COVID stuff. We just really grinded it out for this, camp, scrimmage, everything."
The one-sided finale marked the sixth national title for Coach Saban's program since 2009.
Alabama won Bowl Championship Series crowns in 2009, 2011 and 2012 and now the national playoff titles in 2015, 2017 and 2020.
Coach Saban's overall record in Tuscaloosa is 165-23.
Despite all the previous success, the 69-year- old Coach Saban suggests the current edition holds a special place in history.
"Played 13 games, went undefeated with all the disruption we had this season," Coach Saban told the media. "I think there's quite a bit to write about when it comes down to the legacy of this team."
Roll call
Championship game results since inception of College Football Playoff National Championship
2021 – Alabama 52, Ohio State 24
2020 – Louisiana State 42, Clemson 25
2019 – Clemson 44, Alabama 16
2018 – Alabama 26, Georgia 23
2017 – Clemson 35, Alabama 31
2016 – Alabama 45, Clemson 40
2015 – Ohio State 42, Oregon 20