America's new day
President Joseph R. Biden Jr. and Vice President Kamala Harris are sworn into office in an uplifting ceremony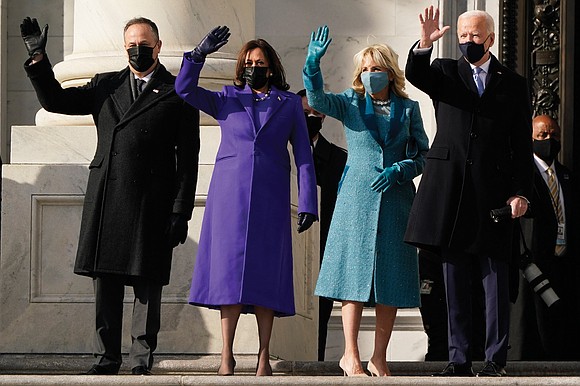 President Joseph R. Biden Jr. issued a ringing call to the nation and began throwing out the damaging, corrosive policies of his predecessor after being sworn into office Wednesday along with his history-making vice president, former U.S. Sen. Kamala Harris of California.
Vice President Harris is the first woman, first African-American and first Asian-American to be elected to the post.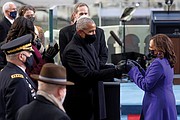 And like a bad dream, the nightmare of the Trump administration is over, the last four years dispelled in a ceremonial and peaceful transition of power in Washington, D.C., that went on without disruption.
The ceremony, limited in attendance because of COVID- 19, was highlighted by prayers, the solos of celebrity singers Lady Gaga, Jennifer Lopez and Garth Brooks and the powerful, uplifting words of 22-year-old Amanda Gorman, the nation's first youth poet laureate.
"This is America's day. This is democracy's day," the 46th president said in his inaugural address. He vowed to be the president of all Americans, including those who did not support him.
"Today we celebrate the triumph not of a candidate, but of a cause. The cause of democracy," President Biden said, looking from the U.S. Capitol out to a sea of 200,000 flags representing the crowd that the pandemic kept away. "The people, the will of the people, has been heard, and the will of the people has been heeded."
But he also warned that "democracy is fragile" in calling for people to come together in common cause to address the challenges ahead and to choose civility and respect over hatred and division.
"Politics need not be a raging fire destroying everything it path," said President Biden. "We must end this uncivil war."
While three former presidents, Mr. Obama, George W. Bush and Bill Clinton, attended Wednesday's inauguration, Mr. Trump was conspicuously absent. Still president, he flew off to Florida three hours before the ceremony, becoming the first president since Andrew Johnson in 1869 to stay away from his successor's swearing-in.
With incoming President Biden already announcing he would immediately undo some of Mr. Trump's signature initiatives, such as building a border wall, Mr. Trump's speedy departure was expected. He could soon return, though, as the Senate is preparing for his impeachment trial on a charge by the U.S. House of Representatives that he incited the Jan. 6 insurrection in a bid to stay in power.
President Biden, who at 78 is the oldest person to enter the presidency, quickly kept his word "to press forward with speed and urgency" to repair, restore, heal and build.
With the inaugural parade going virtual and the fancy balls canceled, the new chief executive capped his first day by ramping up action on his first initiatives and signing 15 executive orders and other papers rolling back detested policies of Mr. Trump, while also making racial equity a pillar of his new administration.
Even before he took office, President Biden unveiled a new $1.9 trillion COVID-19 relief bill that would provide an extra $1,400 per person in relief payments, extend unemployment benefits through March, put student loan repayments on hold until September and provide new funding for states.
After being sworn in, he also sent Congress legislation to create an eight-year path to citizenship for the 11 million undocumented immigrants living in the United States.
Showing vigor and energy, President Biden also appointed a COVID-19 czar to improve the federal response to the epidemic and step up vaccinations. He also issued a challenge to Americans to mask up for the next 100 days to reduce the spread of the virus. And he issued orders to extend federal agency moratoriums on evictions and foreclosures and had the nation rejoin the World Health Organization and the global fight against the pandemic.
President Biden also named former U.S. Ambassador Susan Rice to lead a sweeping review of federal policies on racial equity and to oversee executive agencies that he charged with overhauling procedures to eliminate bias and discrimination and to ensure federal resources are invested in communitiesofcolorandotherunderserved communities.
At the same time, President Biden signed orders halting construction of the Trump border wall; beginning the process of reinstating the United States as a member of the global Paris Accord effort to tackle climate change; ending the ban on visas and travel from Muslim countries; and easing the crackdown on immigrants. The orders also sought to shore up the DREAM Act for children whose parents brought them illegally to this country and halted immediate removal of Liberian refugees.
He also withdrew Mr.Trump's approval of the Keystone pipeline, pushed to reinstate mileage standards for vehicles, halted implementation of regulations easing environmental standards and rolled back other changes in environmental regulation.
The White House said that additional executive actions would be forthcoming in the coming days and weeks to restore the progressive framework and regulations that former Mr. Trump and his administration spent four years trying to tear down.
His inaugural address made it clear that the new president is keenly aware he is taking office at a time of bitter division in the country and just two weeks after his predecessor fomented a mob's attack on the U.S. Capitol and Congress with lies that he had won re-election.
Evidence of that division is the fact that the president entered office before any of his cabinet choices have been confirmed – the first time in decades that has happened. About 7 p.m. Wednesday, the Senate voted to confirm the first – Avril Haines, President Biden's nominee for director of national security, which he made a cabinet-level post.
Republicans, who next week will cede control of Senate, have dawdled on the chamber's responsibility to holding hearings. More nominees will be confirmed in the coming days.
Still, none of the armed militia or insurrectionists the FBI warned may be planning to attack the inauguration showed up to a ceremony that was ringed by 25,000 National Guard troops and was mostly off limits except to a few invited guests and members of Congress.
The pandemic was much on the mind of the new president. During the inauguration, he said his first act was to have a moment of silence for the 400,000 Americans who have died from COVID-19, a number higher than combat deaths during World War II.
On Tuesday night, then President-elect Biden and Vice President-elect Harris held a sunset memorial ceremony at the Lincoln Memorial to remember those who have died in the pandemic. The commemoration marked the federal government's first official nod to the staggering death toll.
"To heal, we must remember," the president-elect said.
After he was sworn in, President Biden made one of his first stops at Arlington Cemetery to lay a wreath honoring those who served their country in the military.
In his speech, President Biden, who grew up in working-class family in Scranton, Penn., said he understood the anxiety and concern that so many are facing.
He called on his listeners to join him in fighting the common foes— "anger, resentment, hatred, extremism, joblessness and hopelessness."
Through unity, he said, "we can do great things" and meet the challenges, eradicate the virus, reopen schools and provide racial justice.
"We can make America once again the leading force for good," he said, "leading not by the example of our power but by the power of our example."