Trump's mob sparks violence
After spurring violence, chaos and an attempted takeover of the U.S. Capitol, President Trump urged his mob of supporters to go home, telling them, 'We love you. You're very special.'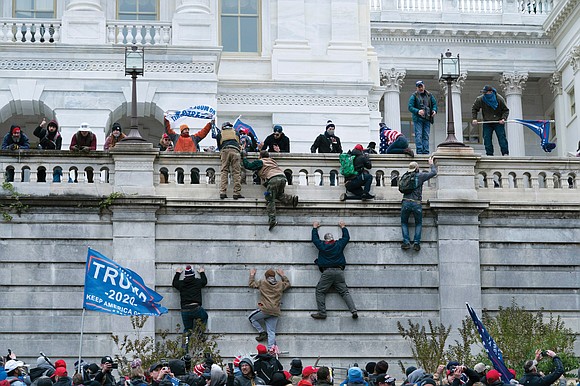 Thousands of President Trump's supporters — with his encouragement — sought to seize the U.S. Capitol in Washington on Wednesday and halt the U.S. Senate and House of Representatives from completing the certification of Democrat Joe Biden's election as the nation's next chief executive.
The chaos that some called an attempted coup took place as two Democrats, buoyed by a surge in Black voters, won both of Georgia's U.S. Senate seats on Tuesday night, ushering in a sea change that will give party representatives control of the House and Senate, along with appointments to the judiciary, for the first since 2015.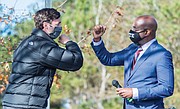 Democrats also will gain control of the White House after Mr. Biden and his vice president, Kamala Harris, are inaugurated on Wednesday, Jan. 20.
The narrow but huge victories of Dr. Raphael G. Warnock and T.J. "Jon" Ossoff in Georgia's runoff elections– with Dr. Warnock making history as the state's first elected Black U.S. senator—were quickly overshadowed as a mob of civilians wearing MAGA hats and clothing took unprecedented action to try and keep President Trump in office.
Marching to the Capitol after a rally near the White House, hundreds scaled, toppled or kicked aside protective metal barricades and sought to enter the building. Some broke windows and others sought to climb walls and raise the Trump flag. Others massed in the front and began pushing against the force of U.S. Capitol Police in riot gear.
Facing overwhelming odds, the officers mostly used pepper spray, tear gas and noxious smoke bombs to try to back the crowds off, but some in the mob managed to enter the building, and take over the Senate chamber and other offices.
Demonstrators also threw materials at law enforcement officers, and there were indications that a few officers were injured in physical confrontations with the protestors.
A woman who reportedly took part in the effort to seize the building was shot inside the Capitol and later died at a Wash- ington hospital.
Amid the uproar, Washington Mayor Muriel Bowers imposed a 6 p.m. to 6 a.m. curfew and Virginia Gov. Ralph S. Northam dispatched 200 State Police officers and some National Guard troops to assist in restoring order.
Vice President Mike Pence separately called for an immediate end to the "violence and destruction" taking place.
There was little evidence of shootings outside the building by either police or protestors as they faced off. Authorities had arrested more than 300 people Tuesday and early Wednesday for violation of city laws banning people from carrying weapons.
The action erupted after a clearly unhinged President Trump encouraged the sea of supporters to march on Congress to protest the review of state-certified results that the U.S. Constitution requires. In addressing the demonstrators on Wednesday, he urged his fans to come after all of court challenges were dismissed.
"We will never give up. We will never concede. It doesn't happen. You don't concede when there's theft involved," the president told his cheering supporters in continuing his false claim that Mr. Biden's victory was based on fraudulent vote counts.
"We won this election, and we won it by a landslide. This was not a close election," President Trump claimed, and he vowed to "primary the hell out of those Republican members of Congress" who refused to be intimidated and adhered to their oath to support and defend the U.S. Constitution.
In his speech, he called GOP members turning against him "weak Republicans" and "pathetic," apparently including Vice President Pence, who was presiding over the Senate before the building was stormed by the mob. Vice President Pence announced earlier in the day that he would not block certification of results from any states.
The effort to storm the building to stop what protestors called "the steal" led to a lockdown of both the House and Senate chambers for several hours and a suspension of the proceedings, the counting of the electoral votes from each state. Lawmakers ended up being evacuated for several hours before the Capitol was declared secure around 6:20 p.m.
The proceedings then continued and were expected to last into the night as elected adherents of President Trump, including Sen. Ted Cruz of Texas, raised what many called baseless objections in a bid to string out the usually routine process without any prospect for ultimate success.
Around 4:30 p.m., President Trump issued a video message telling people who had breached the Capitol to go home.
"There's never been a time like this where such a thing happened where they could take it away from all of us," he said. "This was a fraudulent election, but we can't play into the hands of these people. We have to have peace. So go home. We love you. You're very special.
"I know your pain. I know your hurt. We had an election that was stolen from us. It was a landslide election, and everyone knows it, especially the other side," he continued as it became clear that the insurrection had failed.
He told his followers that Americans must respect law and order and urged them to stand and remain peaceful to avoid any physical harm to themselves and others.
Before the Capitol was put on lockdown, many Republican leaders, including outgoing Senate Majority Leader Mitch McConnell, condemned the president's attacks on the election.
The uproar in Washington appeared to have widened the split in the Republican Party, which analysts now see as divided between those swearing personal fealty to President Trump and his family and those who continue to believe in representative democracy.