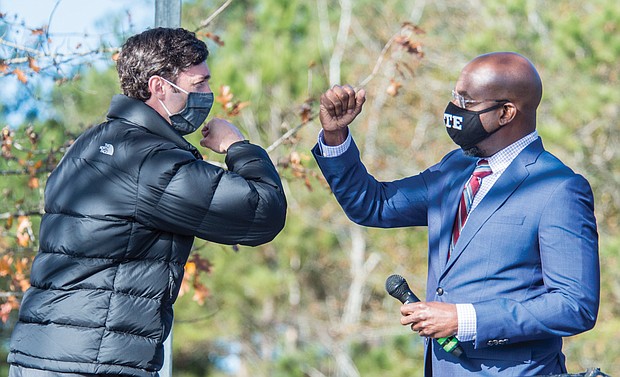 Jon Ossoff, left, and Raphael Warnock exchange elbow bumps Monday during a campaign rally in Augusta, Ga. Democrats Ossoff and Warnock won their respective racdes against incumbent Republican Sens. David Perdue and Kelly Loeffler in a runoff election Jan. 5.
Stories this photo appears in:

After spurring violence, chaos and an attempted takeover of the U.S. Capitol, President Trump urged his mob of supporters to go home, telling them, 'We love you. You're very special.'
Thousands of President Trump's supporters — with his encouragement — sought to seize the U.S. Capitol in Washington on Wednesday and halt the U.S. Senate and House of Representatives from completing the certification of Democrat Joe Biden's election as the nation's next chief executive.