Rev. William Barber II to preach at inaugural interfaith prayer service
1/21/2021, 6 p.m.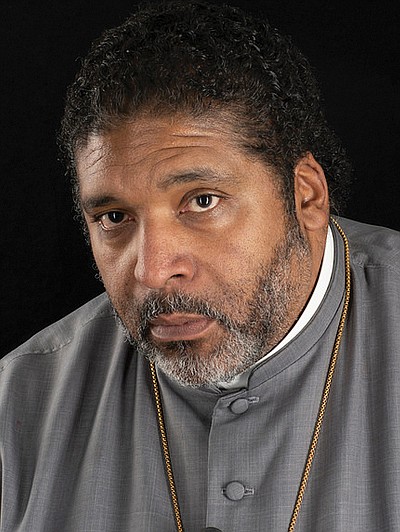 WASHINGTON - The Washington National Cathedral will host a virtual iteration of its traditional interfaith worship service on Thursday, Jan. 21, the day after the inauguration of President Joe Biden and Vice President Kamala Harris. Activist and pastor the Rev. William Barber II will preach the sermon.
The gathering, a long-standing inaugural tradi-
tion, will be hosted by the Rev. Randy Hollerith, the cathedral's dean, and Bishop Mariann Budde, the Episcopal bishop of Washington.
"This Cathedral is a House of Prayer for All People and a sacred space whereAmerica gathers in moments of deep significance, and we are honored to welcome the nation to pause, give thanks and seek God's help in the hard work ahead," Rev. Hollerith said in a news release. "We thank President Biden, Vice President Harris and all our leaders for beginning this work in prayer as we strive to become the people God calls us to be."
During his campaign, President Biden delivered remarks at two events hosted by Rev. Barber, co-chair of the Poor People's Campaign. Rev. Barber also personally endorsed President Biden and his group met with the president-elect's transition team.
But the activist pastor, who is known for his fiery sermons and bold rhetoric, told Religion News Service in November that he stands ready to demonstrate against President Biden should the need arise.
Neither the president nor the vice president will be in attendance, but organizers say they expect the newly inaugurated leaders and their families will watch the service from home — just as millions of Americans have throughout the pandemic.
Faith leaders representing a wide array of American religions and traditions also will appear during the service, including the Rev. Jim Wallis, founder of Sojourners, and Rabbi Sharon Brous, senior rabbi of the IKAR community; Dr. Otis Moss III, pastor of Chicago's Trinity United Church of Christ; Debbie Almontaser, senior adviser for Emgage NY and president of the Muslim Community Network; Greek Orthodox Arch- bishop Elpidophoros; and Anuttama Dasa, global minister of communications for the International Society for Krishna Consciousness.
The most prominent evangelical to speak will be not a clergyperson but Jen Hatmaker, evangelical author and speaker. Valarie Kaur, Sikh activist and founder of the Revolutionary Love Project, will speak, as will Jonathan Nez and Phefelia Nez, president and first lady of the Navajo Nation.
The Rev. Rob Fisher, rector of St. John's Episcopal Church in Washington, D.C., where President Donald Trump stood outside holding a Bible during the Black Lives Matter protests last year, also will make an appearance.
Singers Patti LaBelle and Josh Groban and the cathedral's choir will provide music.
While hosting the service online is a break from tradition, the inclusion of a sermon is a return to form abandoned during the 2017 inauguration of former President Trump, when the Rev. Gary Hall, a former dean of the cathedral, publicly criticized the decision to host a prayer gathering for him, saying the then-incoming president "violates any possible norm of Christian faith and practice" and that holding the gathering for his inauguration amounts to "legitimizing his presidency, which is something I don't think the Christian community should give him."
President Biden also was slated to attend Mass at Cathedral of St. Matthew the Apostle, a Catholic cathedral in downtown Washing- ton, with a bipartisan group of lawmakers on Wednesday, the day of his inauguration. That, too, is something of a break from tradition. Many presidents, including former President Trump, attended church at St. John's Episcopal Church in Washington on the morning of their inauguration.