Prosperity preachers to pray at Trump inaugural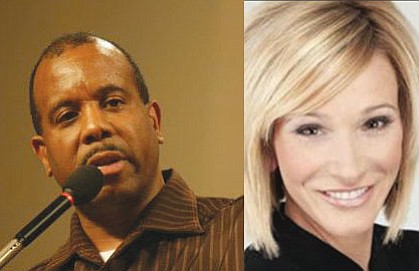 Bishop Wayne T. Jackson, who hosted President-elect Donald Trump with his Detroit congregation in September, is among the religious leaders chosen to offer prayers at the new president's swearing-in next week in Washington.
The inaugural committee announced that prosperity gospel preachers Bishop Jackson, who leads Great Faith Ministries International, and Pastor Paula White, a friend of the president-elect, will join four others selected to participate in the inauguration on Friday, Jan. 20.
It will be the first time preachers who teach that God will make the faithful rich will be included in the ceremony.
While the prosperity gospel movement is widely popular, many Christians consider it heretical. Ministers in the tradition often hold up their own wealth as evidence their teachings work. Mr. Trump, a Republican, campaigned in part on his record as a wealthy real estate developer and businessman.
Anthony B. Pinn, a Rice University religious studies professor, described prosperity gospel "as a way to religiously rationalize material acquisition." He said participating in the inaugural gives the preachers a new kind of prominence.
"You've got millions of people who will see them perform," Dr. Pinn said. "There's a tremendous amount of benefit that goes along with that."
The four other religious leaders included in the inaugural are the Rev. Franklin Graham, son of evangelist Billy Graham; Roman Catholic Cardinal Timothy Dolan of New York; the Rev. Samuel Rodriguez, head of the National Hispanic Christian Leadership Conference, an evangelical group; and the Rabbi Marvin Hier, founder of the Simon Wiesenthal Center, which conducts education about the Holocaust and speaks out against anti-Semitism and bias.
Bishop Jackson owns Impact Network, a station that he claims is the largest African-American-owned Christian television network. He was criticized for interviewing Mr. Trump on the station and having him speak at his church during the fall campaign because of Mr. Trump's racist remarks about minorities.
He defended hosting Mr. Trump, saying at the time, "It's not about being a Judas to my people. I love my people. I feel that we should be better off than what we are. This is not an endorsement. This is engagement for him to tell us what he wants to do."
During the visit, Bishop Jackson placed an Israeli prayer shawl around Mr. Trump and gave him a Bible.
Bishop Jackson also has been criticized for his prosperity gospel message, including blessing water and claiming his faith healings can cure diseases such as cancer. He reportedly owns a 39,000-square-foot home with 10 marble fireplaces in the Palmer Woods section of Detroit. The home reportedly once was owned by the Catholic Archdiocese of Detroit.
He is to give the benediction at the swearing-in ceremony.
The Senate Finance Committee had investigated Pastor White, head of the New Destiny Christian Center in Apopka, Fla., an Orlando suburb, and five other prosperity preachers over their spending, but the inquiry ended in 2011 with no penalty for the televangelists.
Pastor White first gained national prominence as a preacher on B.E.T. in the early 2000s. She calls Bishop T.D. Jakes of The Potter's House in Dallas her mentor and "spiritual father."
Pastor White's TV, radio and megachurch ministries have been lucrative. In 2007, a Florida newspaper reported that she owned a $2.1 million house in Florida, had a condo in Trump Tower in New York City and bought Bishop Jakes a Bentley convertible for his 50th birthday.
According to past interviews, she first met Mr. Trump when he gave her a call after seeing her preach on TV. They became friends.
In the past year, Pastor White has spoken at Trump rallies and helped organize meetings between the candidate and evangelical leaders. She delivered a closing prayer at the Republican National Convention.
She has been called "Donald Trump's God whisperer."
Pastor White said in a statement that she will pray to God at the inaugural "that He would richly bless our extraordinary home, the United States of America."