Trump's religious mentor was mentored by Bishop T.D. Jakes
11/19/2016, 10:52 a.m.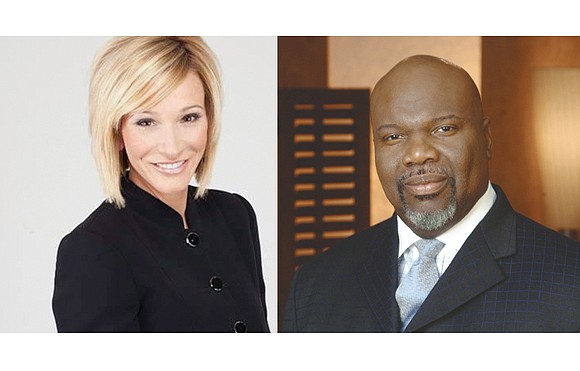 Religion News Service
DURHAM, N.C.
Less than a day after the man she spiritually mentored won the presidential election, the pastor who has been called "Donald Trump's God whisperer" preached a black church revival in North Carolina's most pro-Hillary Clinton county.
The Rev. Paula White did not come to Durham to talk about politics. She did not mention Mr. Trump. And many among her listeners seemed unaware of her now famous connection.
Instead, the celebrity preacher in stiletto boots and a black dress gave her personal testimony Nov. 9, as her husband, former Journey keyboardist Jonathan Cain, played music softly in the background.
"You are in a year of greatness. You are in a year of restoration," Rev. White preached to a group of some 100 worshippers, almost all of them African-American. They had gathered in a large, windowless room at Faith Assembly Christian Center, a simple building in a predominantly black neighborhood of Durham.
Asked afterward about her ties with President-elect Trump, she declined to be interviewed "out of respect for the church."
Pacing around the stage, her Southern accent thickening as she grew more animated, Rev. White echoed basic themes of the prosperity gospel: God wants people to thrive. It is possible to transform your life through positive thinking and prayer.
"I want you to wake up tomorrow with a different attitude. I want you to change your mind. Because when you change your mind, you change your circumstance," she said.
These are themes that might sound familiar to Mr. Trump, who has praised Norman Vincent Peale, a mid-20th century pastor whose willingness to link faith, positive thinking and personal success helped lay the groundwork for today's prosperity gospel preachers.
This preaching often shies away from explicit invocations of politics. If Rev. White does become a kind of Billy Graham to the Trump administration, she will have to balance that role with the apolitical message of the prosperity gospel that aims to cross racial and political lines.
Rev. White is the lead pastor of the New Destiny Christian Center in Apopka, Fla., an Orlando suburb.
Her mother was an alcoholic and her father killed himself when she was 5. She has been married three times. During her sermon last week, she spoke about surviving physical and sexual abuse and being called "trailer trash."
Although she is Caucasian, the pastor first gained national prominence as a preacher on Black Entertainment Television in the early 2000s. Her mentor is Bishop T.D. Jakes of The Potter's House, whom she calls her "spiritual father."
Rev. White's TV, radio and megachurch ministries have been lucrative. In 2007, the St. Petersburg Times reported that she owned a $2.1 million house in Florida, had a condo in Trump Tower in New York and bought Bishop Jakes a Bentley convertible for his 50th birthday.
According to past interviews, she first met Mr. Trump when the businessman gave her a call after seeing her preach on TV. They became friends.
In the past year, Rev. White has spoken at Trump rallies and helped organize meetings between the candidate and evangelical leaders. She went on CNN last month to talk about his faith. She delivered a closing prayer at the Republican National Convention.