Trump evangelical advisers exposed to COVID-19 flout CDC guidelines, preach in public
Jack Jenkins and Emily McFarlan Miller/Religion News Service | 10/8/2020, 6 p.m.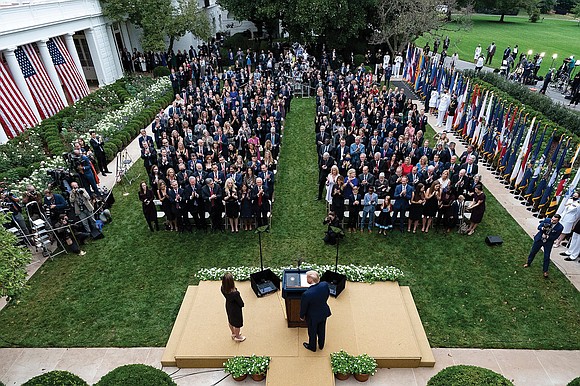 WASHINGTON- At least two faith leaders, including one of President Trump's unofficial evangelical advisers, have tested positive for COVID-19 after attending a White House Rose Garden ceremony and a separate evangelical gathering in Washington.
University of Notre Dame President Rev. John I. Jenkins, who was present at the Rose Garden event on Sept. 26, announced his positive coronavirus test results on Oct. 2 and is isolating.
Pastor Greg Laurie of Harvest Christian Fellowship in Riverside, Calif., also in attendance at the Rose Garden ceremony, confirmed Monday that he tested positive for COVID-19. Rev. Laurie said in a video that he had been quarantining since last Friday, when he received the diagnosis.
A number of other high-profile Christian leaders were also at one or both events. Some have since chosen to quarantine out of precaution, but others continue to travel and even preach in front of their congregations.
With the diagnoses of Rev. Jenkins and Rev. Laurie, at least nine people who attended the Rose Garden ceremony where the president announced his nomination of Judge Amy Coney Barrett for a seat on the U.S. Supreme Court have tested positive for the potentially fatal virus.
Many faith leaders were photographed sitting near or next to them throughout the event. At any given time, most were within feet of Rev. Jenkins, Rev. Laurie, former New Jersey Gov. Chris Christie, former Trump counselor Kellyanne Conway and White House Press Secretary Kayleigh McEnany — all of whom have since tested positive.
At the ceremony, attendees sat close together, few wore masks and many were seen shaking hands when the event concluded.
The Rev. Paul Scalia, a priest at St. James Catholic Church in Falls Church, Va., and son of the late Justice Antonin Scalia, announced to his church on Sunday that he tested negative over the weekend but that he would quarantine "at the recommendation of my doctor and per CDC guidelines."
Rev. Scalia sat in the same row and three seats down from Ms. Conway at the Rose Garden event.
Paul Browne, vice president for communications at the University of Notre Dame, told Religion News Service that 10 faculty members — as opposed to 18, as had been previously reported — from the school attended the Rose Garden event. All have been tested, but Mr. Browne said the university would not reveal their identity or the results of their tests as a matter of policy — with the exception of Rev. Jenkins.
He also stressed the importance of quarantine.
"Anyone who tests positive at Notre Dame is isolated and anyone in close contact with someone who tests positive is quarantined," he said.
Meanwhile, many other faith leaders who attended the event said they have since tested negative for the virus, but not all are adhering to the guidelines from the federal Centers for Disease Control and Infection, which recommend quarantining for 14 days after spending more than 15 minutes in close proximity to someone who tests positive for COVID-19.
Even with a negative test, the CDC still recommends a person exposed to COVID-19 quarantine for two weeks after their last known exposure to the virus because symptoms may take anywhere from two to 14 days to appear.
Indeed, many of the pas- tors in attendance preached in-person to congregations Sunday.
Rev. Laurie, who sat diagonally in front of former Gov. Christie during the Rose Garden event, preached during Harvest Christian Fellowship's "Harvest at Home" online services Sunday. His message was filmed Sept. 30, before his diagnosis, according to his spokesperson.
Rev. Jack Graham, pastor of Prestonwood Baptist Church in Plano, Texas, sat directly in front of former Gov. Christie and next to Rev. Laurie at the Rose Garden event. He opened his service on Sunday by praying for the president, who was hospitalized last Friday after experiencing complications from his own COVID-19 infec- tion, and First Lady Melania Trump, who also tested positive for the novel coronavirus. The president was released from Walter Reed National Military Medical Center in Bethesda, Md., on Monday.
Rev. Graham — speaking at one of Prestonwood's worship centers in Texas, which are open with no restrictions — then assured his congregation that, "I am ridiculously healthy, let's just put it that way. I'm not sick. I'm fine. I exercised every day this week ... and flew to Atlanta to speak with the vice president on Wednesday. I worked every day, preaching three times this weekend, so I don't have COVID. Let's just put it that way. I'm grateful for that and we're grateful fro God's protection always," he said.
Rev. Graham then preached a message titled "Socialism: A Clear and Present Danger."
He did not mention being tested for COVID-19, and Prestonwood has not returned requests for comment by RNS.
RNS has learned that Tony Perkins, head of the conservative Family Research Council who sat on a row close to Gov. Christie, has not had a COVID-19 test since the event but was already infected by the coronavirus earlier this year. He also has taken an antibody test that came back positive.
Mr. Perkins revealed the previous infection in a post on the FRC Action website Monday evening.
Those of us who have the antibodies need to be out and about, because we become part of the process that stops the spread," he wrote.
Liberty University acting President Jerry Prevo, who also attended the event, tested negative for the virus on Friday morning, according to a university spokesperson. President Prevo tweeted on Saturday images of himself attending a Liberty University football game with other people in what appeared to be a closed room.
"Loved cheering @Libertyfootball onto another win today with this beautiful lady," he tweeted, along with images of himself standing next to other people and speaking. "We had a great time getting to know some LU students, staff, and faculty at the game. Congratulations to @CoachHughFreeze and the Flames for their 3-0 record. Go Flames!"
Many of these same evangelical faith leaders also joined thousands who attended a massive prayer march in Washington, the same day as the Rose Garden event. It was led by the Rev. Franklin Graham and included prayers by Skip Heitzig; Paula White; President Prevo; Jentezen Franklin; Robert Morris; Jack Graham; Andrew Brunson, a pastor and missionary who was imprisoned by Turkish officials for almost two years; and Christian musicians Michael W. Smith and Sean Feucht.
National reporters Adelle M. Banks and Alejandra Molina also contributed to this report.