License plate campaign pays homage to Richmond Planet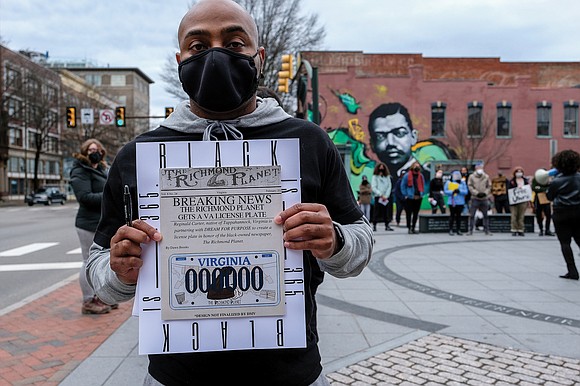 Reginald L. Carter is within striking distance of scoring another victory for his campaign for Black history and racial justice.
The 32-year-old Richmond resident is single- handedly leading the charge to get a specialty license plate featuring an arm with a bulging bicep and raised clenched fist – the Black power logo that the largely forgotten but once influ- ential Richmond Planet newspaper featured on its masthead long before the term was coined in the 1960s.
Mr. Carter's purpose: To raise awareness of the publication that was the voice of Richmond's Black community from the early 1880s until its demise decades later. The Richmond Planet, under the leadership of its "fighting editor" John Mitchell Jr., battled lynching, segregation and other forms of oppression against Black people.
"We need to remember," Mr. Carter said.
To get the state Department of Motor Vehicles to make the plate, Mr. Carter said he needs 450 vehicle owners to pre-order one or more by Dec. 24, 2021. The cost: $10 for each standard plate and $20 for a personalized plate, he said.
Mr. Carter, who has already led successful campaigns to take down a Confederate statue in his hometown of Tappahannock and memorialize a lynched man in Essex County, said that 358 people already have pre-ordered the plates.
Among them are Richmond Mayor Levar M. Stoney, rapper Robert R. "Meek Mill" Williams, pro football players Clelin Ferrell and Anthony Harris and Darryl Johnson of The Rock Project mentorship program.
Mr. Carter is using email and social media to promote the campaign. He said people can contact him at RichPlanetPlate@gmail.com, to secure an application or via Instagram @richplanetvaplate.
Mr. Carter, a graduate of Virginia State University who has a master's degree from the University of Richmond, is more used to working behind the scenes as a human resources specialist at a state agency.
But he started moving out front after being inspired by the racial justice demonstrations that erupted after the Minneapolis Police murder of George Floyd last year.
"I could no longer sit on the sidelines. I had to get involved," Mr. Carter said.
His biggest success to date involves the pending removal of the largest symbol of Black oppression in Essex County—a Confederate soldier atop a pedestal embossed with a rebel battle flag that for generations has stood in front of the Essex County Courthouse in Tappahannock.
After a 369-day campaign Mr. Carter organized and led, the Tappahannock Town Council voted unanimously to remove the statue embody- ing white supremacy and support for slavery. The council is now seeking bids from interested parties as part of the removal process.
"This statue stood in front of the courthouse and jail," Mr. Carter said. "Who could walk past that and believe justice would be served?"
At the same time, Mr. Carter also has successfully secured approval of a state history marker recalling the 1896 lynching of an Essex County man, Thomas Washington. The new history marker, he said, will memorialize an innocent man who was hanged by a mob based on unproven rumors of wrongdoing involving a white child
He also used an online fundraising tool to raise the $2,000 to pay for the marker that is to be set near the site of the illegal hanging in Center Cross on U.S. 17 near Tappahannock. He said a total of $10,000 was raised, and he plans to donate $8,000 to Tappahannock to aid with the costs of the Confederate statue's removal.
Mr. Carter is a bit surprised at how well the projects he started have turned out.
"I am grateful for the support that has made it possible," he said. "I never thought I could have accomplished so much. And on my own, I couldn't. Everything has been an uphill climb. It has been frustrating at times. I have just stayed positive and sought to keep moving forward. And so far, with help from so many others, it has worked out."