Personality: Marquis D. Mapp
Spotlight on board chair of Virginia Pride
6/24/2021, 6 p.m.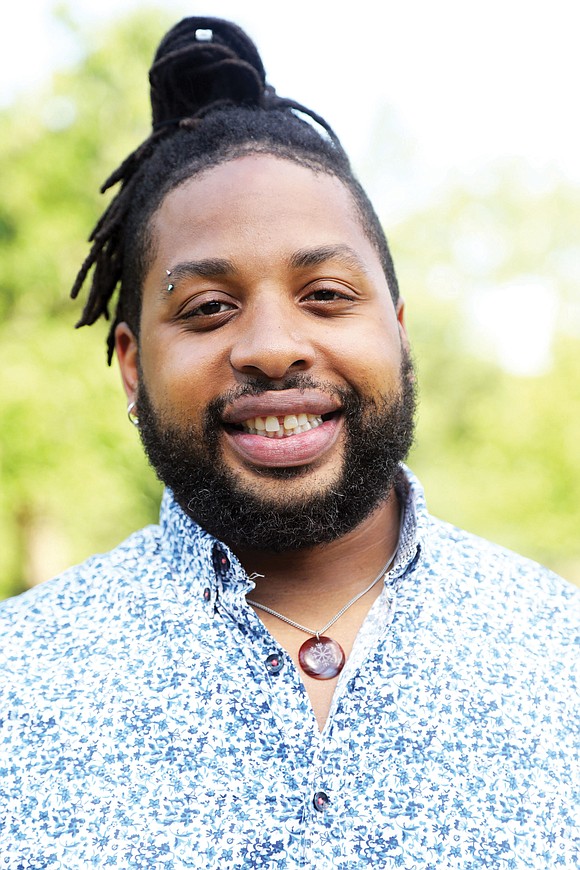 Virginia Pride has emerged in the decades since its founding in the 1970s as a major force bringing awareness of the LGBTQIA+ community to Rich- mond and around the state, as well as promoting diversity and unity among the local LGBTIA+ community.
Now in 2021, Marquis D. Mapp is looking to lead the nonprofit in further growth as the president of the VA Pride Board of Directors.
A native of Portsmouth, Mr. Mapp was elected board president in May. His work is only one aspect of an organization that has grown in scope and ambition over the decades, refocusing to accommodate a changing and expanding community.
Representation is important for Mr. Mapp. "Our board has been instrumental in gaining the much-needed recognition from city officials," he says, "and ensuring that our voices are at the table when decisions are being made, especially when members of our community are being disproportionately impacted."
The organization is looking for volunteers, but he says people who want to help aren't always able to help monetarily, but are eager to lend their time. So to succeed, he says, a slight restructuring of the board is necessary to ensure the board has "members who not only are representative of our extremely diverse LGBTQIA+ community," but who also "meet the needs of the board."
Marketing is a major concern, with a particular focus on maintaining the organization's social media presence and keeping their website updated for those who rely on it for information and much more.
"I aim to give the committee and our community a clear line of communication so that we may continue to elevate our LGBTQIA+ family and friends," Mr. Mapp says. "I accepted this position because I want the community to know, as well as see, that folks who look like me can belong in these spaces and that we, as a board, are being extremely intentional with our membership and leadership."
Mr. Mapp seems confident that VA Pride can meet whatever challenges lie ahead. The nonprofit has adjusted to the demands of the pandemic, from hosting its annual PrideFest virtually to organizing a Black Lives Matter march during Pride month last summer.
VA Pride recently merged with Diversity Richmond, adding a new dimension to its outreach and advocacy efforts.
Throughout all these changes, Mr. Mapp sees VA Pride's work in the community as more vital than ever and is intent on doing his part to help the nonprofit reach its goals.
"We aim to continue to strive to meet the needs of an ever-changing community," Mr. Mapp says. "My role is to help us maintain that focus and that vision.
"Representation matters. Visibility matters. We matter."
Meet an advocate and leader for LGBTQIA+ progress and this week's Personality, Marquis D. Mapp:
Pronouns: He/Him, They/ Them.
No. 1 volunteer position: Chair, Virginia Pride Board of Direc- tors.
Date and place of birth: March 27 in Portsmouth.
Where I live now: Lakeside. Education: Bachelor's degree, Longwood University.
Occupation: Human services.
VA Pride mission: Our mission is to be a vehicle for LGBTQ- IA+ awareness, networking and education to reach the broader commonwealth community. Through various methods, we seek to provide unique events designed to instill pride, celebrate unity and embrace diversity in the Commonwealth of Virginia. We strive to improve the lives of LGBT Virginians by creating visibility and promoting full human and civil rights through advocacy, education, networking and celebrations that center on equity and inclusion.
When and why VA Pride was founded: Virginia Pride was started by a group of loyal and active community members in the mid-1970s. The goal was to bring awareness of the community and to promote diversity while enabling unity among the Richmond LGBT community members. The organization struggled to gain momentum and mostly achieved a sense of presence by hosting the annual Pride celebration in Richmond.
Lessons learned by VA Pride during the pandemic: That virtual isn't so bad! Like so many other groups, we were saddened by the prospect of not having our annual Pridefest but were able to be creative and share a virtual Pride that thousands tuned into. There is definitely something to be said for having an option where people at home, or even those far away, can tune in and have access to the great work this board produces.
Services provided: In addition to Pridefest, we support dozens of community-based organizations through sponsorship and promotion. Organizations like Stonewall Sport-Richmond, Black Pride RVA and Safe Space Market RVA are just a few.
VA Pride partners with: Recently, VA Pride merged with Diversity Richmond, which has been a long supporter of the work we do at VA Pride. So now, VA Pride functions as a program of Diversity Richmond, which allows for one full-time staff person who focuses 24/7 on all things VA Pride but also has additional resources to tap into as needed. We also partner with a variety of local and corporate sponsors. We are extremely excited that our friends at the Virginia Lottery have become the presenting sponsor for our 2021 Pridefest.
LGBTQIA+ community and Richmond: Richmond definitely has come a long way. The Human Rights Campaign has a metric to score cities on their level of inclu- siveness as well as acceptance of LGBTQ+ community members in terms of policies, initiatives, law enforcement and services. In 2020, Richmond scored a 100, which is a perfect score! Just a few years before, Richmond scored significantly lower — in the 60s. But through the dedicated work of amazing community or-ganizations, including VA Pride, we challenged city officials to do better and more.
Black Lives Matter and VA Pride: VA Pride is committed to the missions and values of Black Lives Matter because Black Lives Matter. Period. Last summer, we helped facilitate a march during Pride month that focused on our BIPOC + LGBTQ family and friends. It was incredible having the support of so many community members and exercising our right to stand in solidarity with the Black community.
Who benefits from VA Pride: Everyone. Though we center our support and events on LGBTQIA+ individuals, we seek to create space for everyone who believes in equity and inclusion. Our allies are extremely important in the fight for equality and we appreciate their support and love.
VA Pride's upcoming events: • Thursday, June 24, Starr Hill Sunset Concert Series featuring Rachel Leyco. 6:30-8:30 p.m. at Starr Hill. There's a Facebook event with more details. $1 of every Love Wheat beer sold goes to VA Pride.
• Saturday, June 26, Pride in the Market! Drag show and Dance Party at 17th Street Market. Tick- ets are $10 and can be purchased at https://diversity-richmond. square.site/
• Sunday, June 27, Drag Show at Starr Hill with Michelle De- vereaux Livigne and a cast of local divas from 1 to 3 p.m.
• Wednesday, June 30: VA Pride, Stonewall Sports and Black Pride RVA close out Pride Month with a happy hour hosted by Com- mon House. Drink specials, free entry and tours of Common House. RSVP required at https:// goingson.commonhouse.com/ pridehappyhourch2
• Thursday, July 1, 6-8 p.m., Happy Hour with VA Pride, Stonewall Sports and Black Pride RVA at Kabana Rooftop. Drink specials and music.
• Thursday, July 8, 8 p.m., VA Pride and Diversity Richmond present Pride Movie Night at The Diamond. Bring a blanket and sit in the outfield and enjoy a fabulous queer-themed movie on the giant Flying Squirrels scoreboard.
• Sunday, July 11, 3-8 p.m., Sunday Tea Dance at Sonora Rooftop with DJ Amy Alderman. Tickets, $5 in advance; $10 at the door, with proceeds benefitting VA Pride and Black Pride RVA. Ticket link coming soon.
Ways to be involved with VA Pride: We are updating our website soon and there will be a direct link for those who would like to volunteer. In the meantime, please feel free to email me at marquis.mapp@vapride.org
How I start the day: A glass of water and pets for my pup.
Three words that best describe me: Motivated. Reliable. Ad- vocate.
Best late-night snack: Tacos. How I unwind: Being around
my friends and playing a good board game or off on an adventure traveling abroad.
What I have learned about myself during the pandemic: That wearing heels makes me feel strong and powerful.
Something I love to do that most people would never imagine: I love traveling alone in random countries meeting new people.
Quote that I am most inspired by: "In the end, we will remember not the words of our enemies, but the silence of our friends." — Dr. Martin Luther King Jr.
At the top of my "to-do" list: Laundry. It's the devil.
Best thing my parents ever taught me: Respect.
Book that influenced me the most: "The Ethical Slut" by Dos- sie Easton and Janet Hardy. What I'm reading now: "The Obelisk Gate" by N.K. Jemisin, the second volume of the "Broken Earth" series.
Next goal: Get back to Europe.