David N. Smith, former banking executive and state official, dies at 66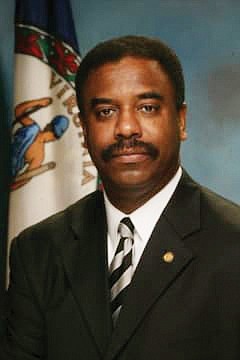 David Nathaniel Smith wanted to be a journalist but found his road to success in commercial sales and banking.
Mr. Smith went on to serve as Virginia's deputy secretary of commerce and trade during the governorship of now-U.S. Sen. Tim Kaine.
"My father would command any room he entered," said his son, David N. Smith II, community coordinator for a restaurant chain. "He had a booming voice and made his presence felt."
Mr. Smith said his father succumbed to health issues on Tuesday, Sept. 7, 2021, at age 66. His life and contributions were celebrated during a funeral service Friday, Sept. 17, at the Scott's Funeral Home Chapel in North Side.
An additional service and burial were held in Columbia, S.C.
A native of Columbia, Mr. Smith graduated from the University of South Carolina.
"He wanted to be a journalist," his son said, adding that life and family matters led his father to a sales job with DuPont. A transfer brought him to DuPont's Spruance Plant in Richmond and a home in Henrico County.
After 18 years in sales and advertising, his work caught the eye of a recruiter for what was then NationsBank. He was tapped to be a vice president for small business lending in the Richmond area.
He spent 14 years with that bank and its successor, Bank of America, before moving to be vice president of commercial lending for then Black-owned Consolidated Bank & Trust Co., now Peoples Bank.
His stay at Consolidated Bank was short-lived. In 2006, newly elected Gov. Tim Kaine tapped Mr. Smith to be a deputy state secretary, with a focus on finding ways to boost state spending with small businesses, most notably Black- and minority-owned businesses and women-owned businesses. Mr. Smith was involved in a variety of business deals and heavily involved in issues related to state spending with those businesses.
His son said that after Gov. Kaine's term ended in 2010, his father closed out his career with the Virginia Department of Transportation.
The elder Mr. Smith also was active with the area YMCA. He was a former board chairman of the North Richmond YMCA and a member of the board of the Tuckahoe YMCA.
He also served as a trustee of Greater Refuge Church of Our Lord Jesus Christ.
Survivors include another son, Brandon E.B. Smith; a sister, Joyce Smith; a brother, William E. Smith; and a grandson.
The family requests that memorial contributions be made to the American Cancer Society or the Lustgarten Foundation.