Trailer park heroine
18-year-old aids neighbors facing eviction
Joey Matthews | 8/1/2014, 11:28 a.m.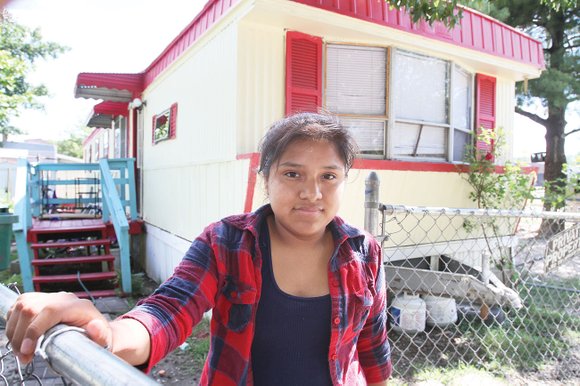 July 31-August 2, 2014 — For Olivia Leon-Vitervo, this has not been a leisurely summer vacation.
Instead, she has spent her time off from school trying to save Rudd's Trailer Park.
The rising senior at Thomas Jefferson High School has become a hero to her neighbors in the impoverished South Side community.
Olivia is fighting to keep Rudd's from being ripped apart after a city crackdown over safety concerns.
It's a labor of love for the determined 18-year-old.
"We're close, and we all look out for each other," the honors student said of the residents of the mobile home park in the 2900 block of Jefferson Davis Highway.
A Saturday night visit to Rudd's by a Free Press reporter confirmed the intimate connections among the residents.
In front of one mobile home, African-American friends played cards.
Around the corner, a Latino family grilled savory chicken.
Nearby, children jumped rope and took piggyback rides from neighbors.
Olivia and her neighbors fear their tight-knit community could face extinction, and that many of them could become homeless after a months-long inspections sweep by the city that began in February.
Code enforcement officers have issued about 740 safety violations and evicted residents from 10 mobile homes.
They placed orange eviction notices on the 10 trailers that directed residents to leave before 5 p.m. that day.
The notices indicated trailer owners would be allowed to return if they made mandated renovations within 30 days.
Unable or unwilling to foot the bill to make the upgrades, none of the evicted persons have so far returned.
City officials directed the evicted persons to seek assistance at the Department of Social Services office at Southside Plaza, according to park owner Ronnie Soffee.

Some of the displaced families found shelter with relatives. Others are are being assisted with food and housing by faith organizations such as First Baptist Church, Sacred Heart Catholic Church and Commonwealth Catholic Charities.
Meanwhile, the city is threatening to shutter most of the rest of the park's 75 operational trailers, Mr. Soffee said. He said he would be forced to close the park and consider selling the property if that happened.
Olivia has no idea where she and her neighbors could find new housing if they were evicted.
Of the remaining trailers, nearly 60 aging units have been cordoned off because of flaws in the units that connect electricity to the trailers. Mr. Soffee has been told the equipment will have to be upgraded.
Mr. Soffee said he hopes to improve or replace the electrical connections within a month at a cost of about $10,000 so families can continue to use the trailers.
Meanwhile, Olivia has been translating city communications to frightened and often confused Latino neighbors, who do not speak or understand English well.

She also canvasses the neighborhood to help residents understand what repairs are needed and how much it will cost to get their mobile homes in compliance with the state code for manufactured homes.
"I feel it is my moral calling to help," said Olivia, who lives in the trailer park with her parents and five siblings and hopes one day to be an engineer. Her family moved here from Guerrero, Mexico, seeking a better life.