Again — Rage against police for civilian killing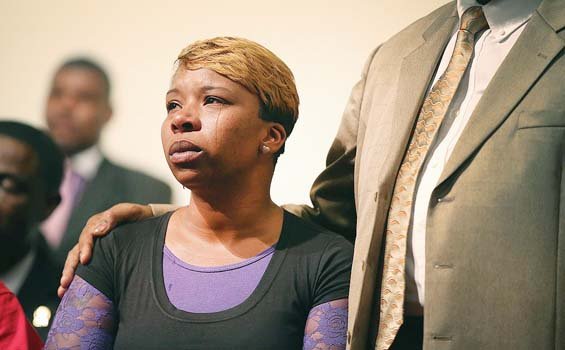 Once again, a city has erupted in violence after the death of a person of color at the hands of police.
This time, it's Ferguson, Mo.
People in the small predominantly black city near St. Louis began rioting and looting after the Saturday shooting death of 18-year-old Michael Brown Jr.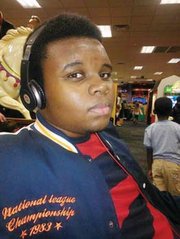 The rage was triggered by witnesses' claims that a Ferguson police officer shot the unarmed Mr. Brown in the back, then shot him several more times after he turned around and attempted to surrender.
More than 50 people have been arrested since the rioting began.
Early Wednesday morning, St. Louis County police responded to reports of four or five men wearing ski masks and wielding shotguns at the site of protests over the Brown shooting.
They encountered multiple suspects running, one of whom pulled a gun on an officer and was shot.The injured man was taken to a local hospital.
Mr. Brown's family and friends and supporters, including the Rev. Al Sharpton, have appealed for an end to the violence.
"I need all of us to come together and do this right, the right way," said Mr. Brown's father, Michael Brown Sr., said at a church gathering."No violence."
Rev. Sharpton reiterated the call for peaceful protest.
"To become violent in Michael Brown's name is to betray the gentle giant that he was," the civil rights activist said.
The case evoked memories of other police shootings and confrontations with civilians that have generated national controversy, from the Rodney King incident in Los Angeles in 1991 to the killing of a Los Angeles man that inspired the movie "Fruitvale Station."
In this case, the only thing that witnesses and police agree on is that the officer ordered Mr. Brown and a friend, Dorian Johnson, to move off the street and onto the sidewalk as they walked to visit Mr. Brown's grandmother.
Jon Belmar, chief of the St. Louis County Police Department, which is conducting the investigation, has publicly claimed Mr. Brown scuffled with the officer and tried to take his gun.
However, Mr. Johnson and Mr. Brown's family dispute these claims and allege the officer opened fire when Mr. Brown was not a threat. The officer's name has not been disclosed, and no official report has been released.
Mr. Johnson alleges that the officer opened his car door "aggressively" after the two men questioned his order to move off the street. According to Mr. Johnson's account, the officer grabbed Mr. Brown and pointed his gun at him, threatening to shoot.
Mr. Brown freed himself from the officer, Mr. Johnson said, and was moving away when the officer shot him in the back. Mr. Brown then turned and held his hands in the air, telling the officer to stop shooting, Mr. Johnson said, but the officer then shot Mr. Brown several more times.
Ferguson police cars do not have dashboard cameras so there is no recording of the incident.
Tensions have been high in Ferguson with residents reporting that officers harass them and treat them disrespectfully.
About two-thirds of Ferguson's 21,000 citizens are African-American, while the police force has only three black officers out of 53.
Of the six City Council members, one is black. There are no black School Board members. The police chief and mayor are both white.
Other communities also have seen similar tensions, including Petersburg, Va.

Last month, Devin Thomas, 17, alleges he was beaten and arrested by city police after recording a traffic stop with his cellphone. In contrast to Ferguson, however, the Petersburg NAACP has worked closely with police in the majority-black city to maintain calm and keep mute the reaction.
Another high-profile case involved Eric Garner, 43, who was choked death by a New York City police officer on July 17.
Rev. Sharpton and others have peacefully protested in the Staten Island neighborhood where Mr. Garner died.
Meanwhile, Los Angeles police are again attracting attention for the killing of a civilian. On Monday, two officers fatally shot a black man with a history of mental health problems, during what the LAPD is describing as an "investigative stop."
Witnesses claim that Ezell Ford, 24, was shot in the back. He died Tuesday. A cousin of Mr. Ford said the officers who patrol Mr. Ford's neighborhood knew of his mental health issues and did not have to kill him.
Nothing seems to have changed since the Rodney King incident. Back in 1991, he was severely beaten at a traffic stop. A bystander recorded the incident. It led to charges against four officers and to six days of riots when they were acquitted more than a year later.