No charges for Michael Brown's killer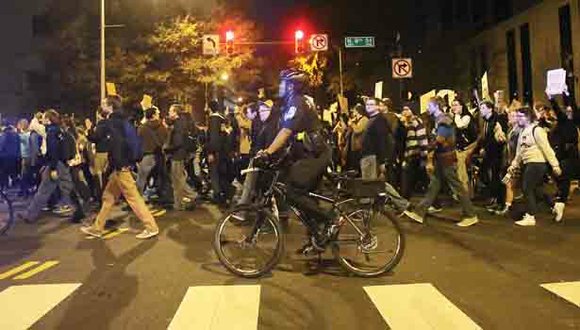 Michael Brown Jr.'s grieving parents likely will never see the killer of their teenage son face murder charges.
In a case that spotlights police killings of unarmed African-Americans, a 12-member grand jury refused to indict police officer Darren Wilson for gunning down the unarmed 18-year-old Aug. 9 on a residential street in this St. Louis suburb.
Reaction was immediate in this city of 21,000. People turned out for street protests. Some turned to violence, torching a dozen buildings and two police cars after the panel's decision was released after 9 p.m. Monday.
The announcement of the grand jury's decision also spawned largely peaceful protests across the country, including
in Richmond, and left many questioning, "Why is this justice? "and "What is a black man's life worth?"
Locally, sign-carrying demonstrators decried the grand jury's inaction in gatherings Monday night at Monroe Park near Virginia Commonwealth University. The group marched to Richmond Police headquarters.
Peaceful protests also were held late Tuesday afternoon at the University of Richmond and in front of the John Marshall Courts Building in Downtown. A crowd estimated at more than 1,000 people turned out to the courts building for speeches, followed by a short looping march past City Hall, to the State Capitol and back to the
courts building. Many were students from VCU, Virginia Union University and UR.
Protests also were reported in New York, Chicago, Seattle, Los Angeles, Oakland and Washington.
St. Louis County Prosecutor Bob McCulloch triggered the protests when he announced the grand jury outcome. The nine white and three black people on the panel heard from 60 witnesses and forensic experts and reviewed documents before rejecting an indictment, an all too typical outcome in shooting cases involving the police.
Officer Wilson could have faced charges ranging from involuntary manslaughter to first degree murder.
Mr. McCulloch never seemed supportive of an indictment, and after announcing the panel's decision, he appeared to add fuel to the fire of outrage with an extended address justifying the result.
He also surprisingly released 24 volumes of information compiled from the usually secret proceedings.
As Mr. McCulloch read his statement, Michael Brown's mother, Lesley McSpadden, sat atop a vehicle listening to a broadcast of the announcement.
When she heard the decision, she burst into tears. "Everybody wants me to be calm," she can be heard shouting to a crowd of supporters in a video uploaded to Facebook late Monday night.
"Do you know how those bullets hit my son?" she is heard to say.
The video shows her anger turning to sorrow. "They still don't care," she can be heard saying, before breaking down into sobs. "They're never gonna care. I've been here my whole life."
In another video, Louis Head, her husband and Michael Brown Jr.'s stepfather, can be seen comforting his wife and then climbing onto the roof of the car, turning to the crowd and repeatedly urging them to "Burn this (expletive) down!" His remarks referred to Ferguson.
Before the decision was announced, the Brown family, along with clergy, local, state and national officials, had urged calm.