Ferguson police created 'toxic environment'
Federal probe reveals racial bias, injustices aimed at African-Americans; cop cleared in death of Michael Brown
Free Press Staff, wire reports | 3/5/2015, 6:08 p.m. | Updated on 3/5/2015, 6:07 p.m.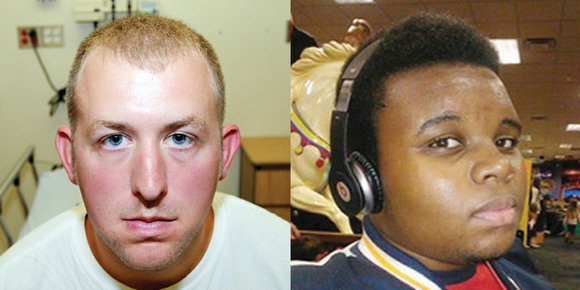 WASHINGTON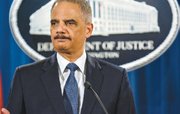 A U.S. Justice Department investigation found sweeping patterns of racial bias within the Ferguson, Mo., police department that targeted African-Americans and created a "toxic environment," with officers routinely using excessive force, issuing petty citations and making baseless traffic stops against them.
But even in the face of a plethora of problems, the federal probe cleared a former white police officer in the fatal shooting of an unarmed black teenager there, Attorney General Eric Holder said Wednesday.
The report said police officers in the St. Louis suburb overwhelmingly arrested and issued traffic citations to African-Americans to boost city coffers through fines, used police as a collection agency and created a culture of distrust that exploded in August when former Ferguson Officer Darren Wilson fatally shot 18-year-old Michael Brown.
"This investigation found a community that was deeply polarized, a community where deep distrust and hostility often characterized interactions between police and area residents," Mr. Holder told reporters.
"Of course, violence is never justified," Mr. Holder said. "But seen in this context — amid a highly toxic environment defined by mistrust and resentment, stoked by years of bad feelings, and spurred by illegal and misguided practices — it is not difficult to imagine how a single tragic incident set off the city of Ferguson like a powder keg."
The killing of Mr. Brown and other unarmed African-American men by white police officers touched off a national debate on race, led to ongoing street demonstrations and amplified long-standing complaints in Ferguson and across the country of police harassment and mistreatment of people of color. It also prompted the Justice Department probes.
Those incidents also have ignited ongoing demonstrations in Richmond, led mostly by a diverse group of young people, that have sparked a series of community meetings known as "Peeps & Police Community Conversations" between the city's residents, new Richmond Police Chief Alfred Durham and his department's more than 700 officers to try and prevent incidents of police brutality.
Mr. Holder, who is stepping down soon as attorney general, called for wholesale and immediate change in the way Ferguson operates.
The Justice Department investigation began shortly after Mr. Brown's slaying. The findings are based on interviews with police officers and residents, a review of more than 35,000 pages of police records and analysis of data on stops, searches and arrests.
The 102-page report found that Ferguson's lack of racial diversity — only four of 54 commissioned officers are African-Americans — undermined community trust.
It also found that the city relied heavily on fines for petty offenses, such as jaywalking, to raise revenue. Police interpreted "innocent movements as physical threats" and engaged in practices that overwhelmingly affected minorities and reinforced patterns of racial bias, it said.
In a city where African-Americans make up about two-thirds of the population, the report stated, they accounted for 85 percent of the total charges brought by Ferguson police, and more than 90 percent of arrests.
The document was filled with examples of what it called a discriminatory criminal justice system. One African-American woman spent six days in jail because of a parking violation, it said. A lawful protest was broken up with a police warning of "everybody here's going to jail." And a black man sitting in a car with tinted windows was accused of being a pedophile by an officer who pointed a gun at his head.
Also, between 2012 and 2014, African-American drivers were more than twice as likely as others to be searched during routine traffic stops, but 26 percent less likely to be carrying contraband.
The report also found that officials swapped racist emails and jokes without punishment. Seven racially tinged emails were included in the document. The writer of one 2008 email stated that President Obama would not be in office for long because "what black man holds a steady job for four years."
The report led to fresh calls for Police Chief Tom Jackson and the city's mostly white leadership to step down.
"He absolutely should not have that job anymore," said St. Louis-area lawyer Brendan Roediger, who has helped represent some of those protesting police actions.
Federal officials also confirmed on Wednesday they could not find a civil rights reason to prosecute Mr. Wilson, who also was not charged by a Missouri grand jury for the shooting. He resigned from the Ferguson police force in November, citing concerns for safety for him and his family.
Lesley McSpadden and Michael Brown Sr., parents of the slain teen, said the decision not to pursue federal charges against Mr. Wilson disappointed them. But they said they were pleased the report could cause changes in Ferguson and other parts of the country.
"If that change happens, our son's death will not have been in vain," they said in a joint statement.