Va. chief justice portrait presented
11/5/2014, 6 a.m.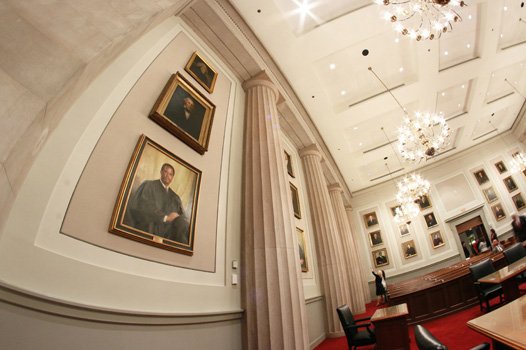 A portrait of the late Justice Leroy Rountree Hassell Sr., the first African-American chief justice of the Virginia Supreme Court, now hangs in the state's highest court building in Downtown.
The oil-on-canvas painting by artist Jean Garver was commissioned by the Virginia Bar Association and was presented Tuesday at a ceremony attended by Justice Hassell's widow, Linda G. Hassell; daughters; granddaughter; and other family and friends, as well as his judicial colleagues on the state's highest court.
George K. Martin, managing partner of McGuireWoods' Richmond office and a longtime friend of Justice Hassell, spoke at the ceremony at the court at 9th and Franklin streets. They attended the University of Virginia together, where Mr. Martin now serves as rector.
In an ironic twist, award-winning Free Press photographer Sandra Sellars served as the pool photographer for non-daily newspapers at the event at the request of the Virginia Press Association.

In 2003, Justice Hassell barred Ms. Sellars from photographing his installation as chief justice as the pool photographer for the nation's black-owned newspapers.
The Free Press, then led by the late Raymond H. Boone Sr., responded with editorials hammering Justice Hassell for limiting the photographers to one from a white-owned daily newspaper. For years after, the Free Press continued pressing the chief justice to change the use of male-dominated language on the court's website.
It took eight years and new justices to end the fight. When Justice Cleo Powell, the court's first black female member, was installed, she ensured Ms. Sellars would be one of the pool photographers for her ceremony, with the support of the new chief justice, Cynthia D. Kinser, who is now planning to retire. Chief Justice Kinser also completed the erasure of sexist language on the website, an effort ultimately begun under Chief Justice Hassell.
Justice Hassell rose from segregated schools in his native Norfolk to earn a law degree from Harvard Law School. He became a partner at McGuireWoods in Richmond, where he was involved in community betterment. He served on the Richmond School Board for several years and as co-counsel to the Richmond Redevelopment and Housing Authority.
In 1989, Gov. Gerald L. Baliles appointed him to the state's highest court, where he served for 22 years before his death in February 2011 at age 55. He was chief justice of the court from February 2003 to January 2011.
Since 1943, the bar association has commissioned a portrait of each new justice and presented it to the court when the justice retires.
The painting now hangs in the elegant and columned courtroom where the seven Supreme Court justices preside.
Farnaz F. Thompson, assistant attorney general in the civil litigation division of the Virginia Attorney General's Office and a former law clerk for Justice Hassell, also spoke at the ceremony.