NY Yankees legend Derek Jeter ends stellar career on high note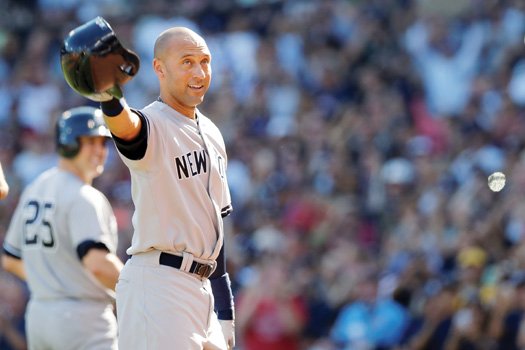 Derek Jeter stepped to bat for the final time in his magnificent 20-year career Sunday.
A runner was in scoring position in the third inning.
What else would you expect him to do in a clutch situation against the archrival Boston Red Sox?
The superstar shortstop singled in the run.
Jeter, who strained a hamstring legging out an infield hit Saturday, was then replaced by slow-footed pinch runner Brian McCann in the game eventually won by the Yankees 9-5. The play marked the end of Jeter's Major League Baseball career.
He was given a thunderous send-off to retirement, with the Fenway Park crowd chanting "De-rek Je-ter" and the Red Sox players applauding him.
"I've been a part of some chants here at Fenway Park," Jeter said with a laugh, "but I don't know if any of them were good."
The Yankees captain, celebrated by his Boston rivals in a classy pre-game ceremony, waved his cap to the crowd, drawing one last roar of tribute before he was greeted with hugs by each teammate at the dugout.
The base hit, which Boston third baseman Garin Cecchini was unable to grab with his bare hand, gave Jeter 3,465 for his career — sixth on the MLB's all-time list — as the 14-time All-Star left the game and began life as a spectator.
Jeter, 40, could have called it a career on a Hollywood high note after stroking a ninth-inning, walk-off winning single in his last at-bat at Yankee Stadium last Thursday in the team's 6-5 win over Baltimore.
But there was one series left in the season, and Jeter said that out of respect to Boston, the fans and the Red Sox rivalry, he wanted to be in the lineup at Fenway.
Red Sox manager John Farrell said before the game that he was not surprised.
"It's similar to the way I've seen him handle everything else that's gone on in his career," Farrell said.
"It's with respect to the game, it's with a grace and a dignity and an integrity that is probably unmatched by others. He sets the bar by which every young player should look up to and aspire to be."
The Red Sox honored Jeter with an effort befitting one of their own. The team summoned some of its greatest former players, including Fred Lynn, Luis Tiant and Hall of Famers Carl Yastrzemski and Jim Rice, wearing their old Boston jerseys.
Other Boston sports champions came out to honor five-time World Series winner Jeter, including Hockey Hall of Famer Bobby Orr of the Bruins, former Celtics standout Paul Pierce and Troy Brown, who picked up three Super Bowl rings with the Patriots.
The entire Red Sox team poured out of the dugout and formed a line headed by slugger David Ortiz to individually congratulate Jeter.
"It was hard to envision what would happen because this is a place where we've been an enemy for a long, long time," Jeter said, "and for them to flip the switch this last time coming here made me feel extremely proud."