MLB's Jackie Bradley has Richmond roots
5/26/2016, 7:16 a.m.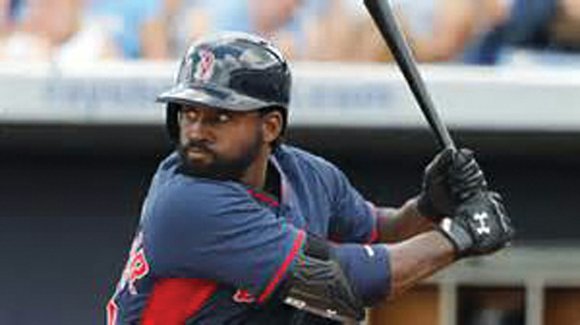 The hottest hitter in major league baseball has deep Richmond roots.
Boston Red Sox centerfielder Jackie Bradley Jr., who has an epic 29-game hitting streak, was born in Richmond in 1990, and played baseball in the Metropolitan Junior Baseball League.
In 2007, Bradley suited up for the MJBL's U-19 squad that competed in a Babe Ruth League program based out of Henrico High School.
"I remember everyone talking about this extraordinary talent," recalled William Forrester Jr., MJBL executive director. One of my players' fathers, Carlton Blount, came up to me and said, 'This kid is pro material.' "
Blount turned out to have a keen eye for talent.
Bradley, nicknamed "JBJ," is the 26-year-old son of Jackie Bradley Sr., a former Richmond bus driver, and Alfreda Hagans.
Both Bradley Sr. and Jr. derive their first name from the late soul singer, Jackie Wilson.
About 5-foot-10 and 200 pounds, the bearded Bradley Jr. bats left-handed and throws right.
He began this week leading the American League with a .342 average that featured seven doubles, three triples, eight home runs, 29 runs batted in and 17 walks.
During his hitting streak — the longest in the majors this spring — he has batted a blistering .411.
Bradley is chasing Boston's all-time hitting streak of 34 games set in 1949 by Dominic Paul "Dom" DiMaggio.
Defensively, Bradley is outstanding and boasts one of baseball's most prolific throwing arms. On a dare, Bradley has flung a ball from home plate over the 410-foot centerfield wall at Fenway Park.
His powerful pegs have been timed at more than 101 mph upon release. He has a career total in the big leagues of 23 outfield assists, including 13 in 2014.
"For sure, Jackie is the most illustrious alumnus of our program," said Forrester. "We keep up with him as much as we can. Mostly, we hope he's an inspiration for other boys in the city."
Forrester alluded to fact that basketball and football have far surpassed baseball in terms of interest among the city's young athletes.
Bradley, who moved with his mother to Prince George County when he was in the sixth grade, went on to star at Prince George High School. But he maintained his Richmond ties. He played with the Glen Lea Association in Eastern Henrico and with the Richmond Braves travel team.
In fact, Bradley was splitting time between the MJBL and the Braves during the summer he was "discovered" by the University of South Carolina.
"Jackie was going with us to the Inner City Classic in Alabama," recalled Forrester. "But he was playing for the Braves at the same time and they had a tournament in Cobb County, Ga. He wasn't able to play for us that weekend because the Braves' tournament was extended. As it turned out, that's when the South Carolina coach saw him and offered him a scholarship."
Bradley then was on the fast track to success.
Mickey Roberts coached Bradley both at Prince George High and with the Richmond Braves.
"Jackie was one of those guys who was always motivated," recalled Roberts. "He knew the direction he wanted to go and nothing was going to get in his way."