Richmonders write headlines in MLB
Richmond native Jackie Bradley Jr. is in the front seat of what promises to be a record ride by the Boston Red Sox.
While still far from the finish line, Boston is challenging baseball's all-time, regular season record for most victories in a season.
But before Bradley, there was another swift, left-handed hitting centerfielder with Richmond ties who made big league headlines.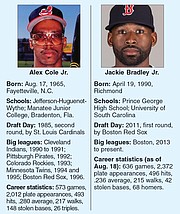 That was Alex Cole Jr., who was so fast that a franchise changed its outfield fence dimensions to better maximize his talents.
It's safe to say that Cole and Bradley are the most accomplished baseball players in the last half century to hone their skills in Virginia's capital city.
First, some background on Bradley:
Born in Richmond to Alfreda and Jackie Bradley Sr., Bradley and his father are named after soul singer Jackie Wilson. Bradley's father was a bus driver with GRTC. Bradley and his mother later moved to Prince George County.
Young Bradley played baseball early on with the Metropolitan Junior Baseball League. He went on to sparkle at the University of South Carolina, where he was named the Most Valuable Player of the 2010 College World Series. Considered among the game's premier defenders, Bradley has been a fixture in Boston's lineup since 2013.
The Red Sox (88-36 as of Aug. 19) are chasing the all-time record for most wins — 116 — that currently is shared by the 1906 Chicago Cubs and the 2001 Seattle Mariners.
Cole was born in Fayetteville, N.C., where his father, Alex "Fuzzy" Cole, played football at Fayetteville State. The family moved to Richmond where young Cole enrolled in public schools and hooked up with the MJBL.
Cole played for Jefferson-Huguenot-Wythe High School and Manatee Junior College in Florida before entering pro ball as the St. Louis Cardinals' second round selection in 1985.
Later traded to the Cleveland Indians, Cole stole 40 bases in just 63 games as a Cleveland rookie in 1990.
He applied that same skill to centerfield, where he was a dazzling fly-ball chaser. That ability to "go get 'em," as they say in baseball, led Cleveland to move the fences back 20 feet, allowing Cole more ground to glove long drives.
After two years in Cleveland, Cole was traded to the Pittsburgh Pirates where he played beside left-fielder Barry Bonds in the Pirates' outfield.    
Pittsburgh won the Central Division title in 1992 before falling to the Atlanta Braves 4 games to 3 in the National League Championship series.
It was the Pirates' last hurrah for many seasons. Cole was traded to the Colorado Rockies. Bonds opted for the San Francisco Giants. And Pittsburgh didn't enjoy another winning season until 2013.
Cole's Major League Baseball career ended with a short stint with Boston in 1996.
It's fitting one left-handed Richmonder willed his "Red Sox" to another southpaw Richmonder, who just happens to play the same position at Fenway Park.