Elijah 'Pumpsie' Green, first black player for the Boston Red Sox, dies at 85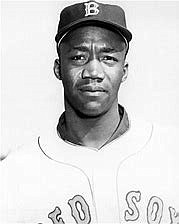 Elijah "Pumpsie" Green, who became the first African-American player for the Boston Red Sox in 1959, died Wednesday, July 17, 2019, in El Cerrito, Calif.
Mr. Green, a switch-hitting infielder who batted .246 in four seasons in the big leagues, was 85.
Mr. Green debuted with Boston on July 21, 1959, after starting the same season with Boston's AAA farm club in Minneapolis. In Mr. Green's first home game at Boston's Fenway Park, he tripled off the Green Monster in left field.
The Boston Red Sox was the last big league team to integrate 12 seasons after Jackie Robinson broke the color line in Major League Baseball by joining the Brooklyn Dodgers.
Mr. Green was joined on the Red Sox roster later in the 1959 season by another African-American player, pitcher Earl Wilson.
Mr. Green played three seasons with Boston and, in 1963, played his final season with the New York Mets.
Following his baseball career, Mr. Green served as a truant officer and coach at Berkeley High School in Berkeley, Calif.
Mr. Green was born Oct. 27, 1933, in the historically black and native American town of Boley, Okla., that was established in 1903. He grew up in Richmond, Calif., and was a three-sport athlete in high school at El Cerrito High School.
Mr. Green's brother, Cornell Green, played many seasons as a defensive back with the Dallas Cowboys.
Mr. Green often was asked about the origin of his catchy nickname. He said he didn't know other than his mother began calling him that at early age.
On April 17, 2009, Mr. Green was honored at Fenway Park on the 50th anniversary of becoming the franchise's first black player.
In April 2012, he threw out the first pitch at Fenway as part of the team's Jackie Robinson Day festivities.