Mookie Betts scores big in baseball, bowling
Fred Jeter | 7/6/2018, 4:36 p.m.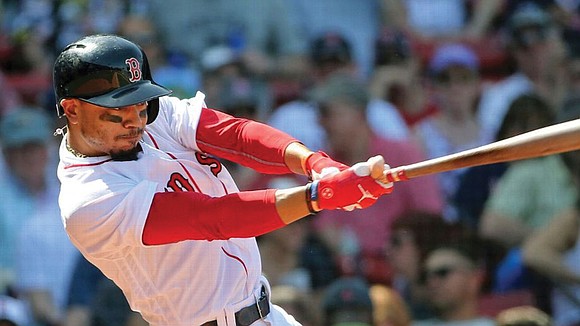 The Boston Red Sox have Major League Baseball's best record (56-28) entering this week.
Many contend, at least among New Englanders, the Bosox also may have the best all-round player, too, in right-fielder Mookie Betts.
The ever-improving 25-year-old Nashville native opened this week as the second leading vote getter for the July 17 All-Star Game at Nationals Park in Washington, D.C.
With 2.38 million votes (cast by fans) as of June 26, only reigning American League MVP Jose Altuve of Houston had more votes (2.41 million).    
It's no wonder why. Through 62 games (he missed about 15 games with an abdominal strain), Betts was hitting .341 with 20 homers, 41 runs batted in, 14 stolen bases and an on-base percentage of .431.
The powerhouse 5-foot-9, 180-pounder is also considered among the games' elite outfielders, both in terms of range and throwing arm.
It's conceivable that he could not only contend for the AL Triple Crown (average, homers, RBI), but also for the Quadruple Crown, if you add stolen bases.
Betts is on a roll, literally, in more ways than one.
He's about as smooth at the bowling alley as he is in right field or the batter's box.
In 2015 and 2017, Betts competed in the Professional Bowlers Association World Series in Reno, Nev.
He has rolled perfect games (300) in 2013, 2016 and 2017.
In 2010, he was named Tennessee Boys (meaning U-18) Bowler of the Year.
He started young in both baseball and bowling, largely due to his mother, Diana, an avid bowler who just happened to also be her son's first baseball coach.
As the All-Star game approaches, here is more Mookie trivia:
Name game: His full name is Markus Lyle Betts, meaning he has the same initials as Major League Baseball, MLB. It wasn't by accident.
The catchy nickname comes from former NBA basketball standout Mookie Blaylock, a favorite of Betts' parents (Diana and Willie).
It has nothing to do with another famous Mookie, former New York Mets outfielder Mookie Wilson.
Big numbers: Not only does Betts accumulate large numbers with his bat, his jersey number (50) ranks highest among everyday players. Numbers in the 50's are generally reserved for pitchers.
Family tree: Baseball runs in the family. Betts' first cousin, once removed, is former big leaguer Terry Shumbert, who played for seven different MLB teams between 1990 and 2003.
Predictability: Young baseball players are taught to hit to all fields, to keep pitchers and defenses guessing. Betts doesn't subscribe to that theory.
A notorious pull hitter, virtually all his damage is done to left field and the grandstand seats beyond the fences.
Size doesn't matter: At least not to Betts. Should he choose to enter the home run contest the night before the All-Star Game, he should be among the shortest swingers ever at just 5-foot-9.
Something of a modern day "Toy Cannon," (smallish slugger Jim Wynn was first to get that tag), Betts could be the most ordinary-size man in decades to contend for the shortest AL long-ball crown.
Blacks in Boston: The Massachusetts city doesn't have the best reputation for racial diversity, and for good reason.
The Red Sox were the last MLB team to integrate. A dozen years after Jackie Robinson debuted with Brooklyn, Beantown finally introduced its first African-American player, Elijah "Pumpsie" Green, on July 21, 1959. No star, Green was primarily a pinch runner and sometimes infielder.
Much has changed. Boston is now among the most diverse MLB teams with a lineup that includes Richmonder Jackie Bradley Jr. in centerfield.
Richmond background: In 2014, Betts played 54 games for Boston's AA Eastern League affiliate, the Portland, Maine, Sea Dogs, the Flying Squirrels opponent.
Ba$eball: While baseball has lost popularity in black community (especially in the inner city), the sport certainly pays the bills.
Betts, or better Bett$, is under contract for $10.5 million this season. And that's not all. His endorsements include Nike's Jordan Brand, Axe Bats and Vita Coco (coconut water).