Mookie Betts, Lorenzo Cain leading candidates for MLB MVPs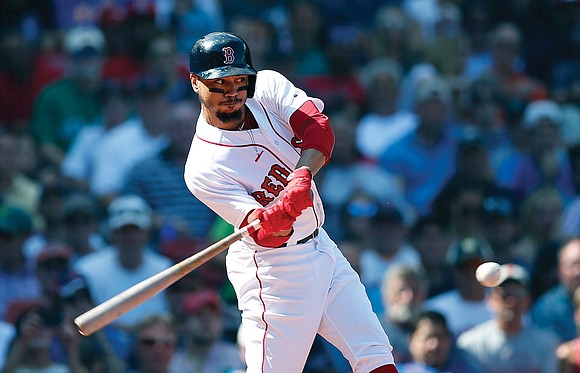 African-Americans are short in numbers but large on impact in Major League Baseball.
Only about 10 percent of big leaguers are African-American, born in the United States, but they are getting noticed.
Heading into the season's final two weeks, Boston Red Sox rightfielder Mookie Betts is a clear front-runner for the American League's Most Valuable Player.
A leading MVP candidate in the National League is Milwaukee Brewers centerfielder Lorenzo Cain.
Others making statistical waves are Oakland Athletics outfielder/designated hitter Khris Davis, and Tampa Bay Rays centerfielder Mallex Smith.
In his fifth season with the Eastern Division leading Red Sox, Betts leads the big leagues with a .337 average.
Despite losing about 20 games to injury, Betts has 29 homers, 72 RBIs, 28 stolen bases, a whopping .431 on-base percentage and is brilliant defensively.
Betts' Wins Against Replacement (WAR) is 10.0, the best in baseball.
To a somewhat lesser extent, Cain has been a catalyst for a Brewers squad contending for the NL Central pennant.
Cain, with a WAR of 6.7, is hitting .311, with 28 stolen bases. He also is a Gold Glove winner in the outfield.
Growing up in Madison, Fla., Cain never played baseball until his sophomore season at Madison County High School. He might not have played baseball if he hadn't been cut from the basketball team. At the time he went out for baseball, he didn't own his own fielder's glove.
Davis has been on a tear since joining Oakland three seasons ago. This year, he leads the AL with 43 homers and 115 RBIs. He has clubbed 128 homers and driven in 327 runs during the past three seasons.
The native Californian goes by the nickname "Khrash Davis." That's a play on words with the character "Crash Davis," played by Kevin Costner in the baseball movie "Bull Durham."
Smith, from Tallahassee, Fla., is bidding for the AL's "Speed Demon Double." He leads the league in triples (9) and stolen bases (33) while hitting .300. Smith stole as many as 88 bases in a minor league season while with the Atlanta chain.
Also in news concerning players of color is a tight battle for NL Rookie of the Year between the Washington National's Juan Soto and the Atlanta Brave's Ronald Acuna.
Soto, a 19-year-old outfielder, and Acuna, a 20-year-old second baseman, are both from the Dominican Republic.
Soto is hitting .305 with 20 homers, 64 RBIs and .421 on-base percentage.
Acuna has 25 homers and 55 RBIs, with a .292 average and .368 on-base percentage.
Soto is bidding to become Washington's first Rookie of the Year since Bryce Harper in 2012.
Atlanta's last Rookie of the Year was relief pitcher Craig Kimbrell in 2011.