Richmond graduation rate up, but dropout rate still among Va.'s highest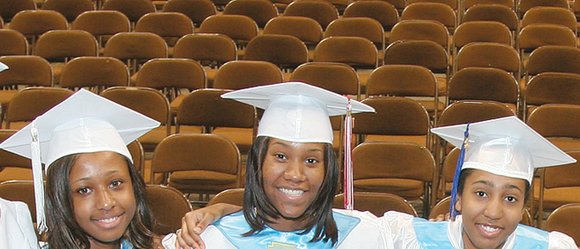 Richmond Public Schools issued four-year diplomas to nearly 81 percent of the 1,416 students in the Class of 2014.
That's the highest percentage for the school system in the six years since the state began tracking results for individual students — and a vast improvement from 2008, according to a new state report on on-time graduation.
That year, the school system awarded four-year diplomas to only 65.6 percent of the 1,749 students who began ninth grade four years earlier.
The higher on-time award of diplomas is surprisingly good news for a school system that recently reported disappointing student pass rates on state Standards of Learning tests and now has only 11 fully accredited schools out of 44.


Among the bright spots: Armstrong High, which is struggling to be conditionally accredited, awarded four-year diplomas to 80 percent of its Class of 2014. That's an increase of nearly 10 percentage points from 2013 when just 70.8 percent of the school's Class of 2013 received four-year diplomas.
Even better, Richmond's three specialty high schools, Franklin Military Academy, Open High and Richmond Community, issued four-year diplomas to 100 percent of their students. Open High has reported a 100 percent graduation rate each year since 2010; Richmond Community has matched that percentage since 2011 and Franklin Military since 2013.

Thomas Jefferson High also excelled. The school awarded four-year diplomas to 92.3 percent of the 220 students in its Class of 2014, the highest percentage among the five comprehensive high schools.
In addition to Armstrong and Thomas Jefferson, the comprehensive schools are George Wythe, John Marshall and Huguenot. George Wythe awarded diplomas to 75.5 percent of its Class of 2014; John Marshall, 82.5 percent; and Huguenot, 80.3 percent.
Still, the city's overall on-time graduation rate of 80.5 percent remains well below the state average of about 90 percent and trails neighboring Chesterfield (90.2 percent), Hanover (95.5 percent) and Henrico (89.9 percent) counties, according to the new state data.
Equally concerning is the fact that Richmond's dropout rate still ranks among the highest for the 131 school divisions in Virginia with high schools.
While lower than in past years, Richmond's 13.6 percent dropout rate for the Class of 2014 is more than double the 2014 state average of 5.4 percent, according to the report.
Of the 1,416 Richmond students who began the ninth grade with hopes of graduating in 2014, 192 or 13.6 percent dropped out of school by the 12th grade.
The new state data, which looks only at results for the Class of 2014, appear to understate the size of the city's dropout problem.
In 2010, the city's school system reported that 1,699 students were enrolled in the ninth grade, including the 1,416 first-time ninth-graders plus 283 students who had been retained. Four years later, 475 or 28 percent of the 1,699 students were no longer in the city public schools.
Some had moved out of Richmond, but a major share had joined the dropout ranks, according to a review of state data on the Classes of 2013 and 2012.
Keeping teenage students in class has long been a problem for city schools, as the chart indicates.
According to Richmond's Sept. 30 enrollment reports to the state for the past decade, the ninth grade always has far more students than the number of those make it to the senior class four years later.

For example, on Sept. 30, 2009, Richmond reported 1,714 students were in the ninth grade, while only 1,158 students were enrolled in the 12th grade four years later on Sept. 30, 2012 — a difference of 556 students.
In 2004, Richmond reported on Sept. 30 that there were 2,191 students in the ninth grade. However, four years later, on Sept. 30, 2007, 12th-grade enrollment totaled 1,234. That's a drop of 957 students.
And drilling into the state data shows the actual number of Richmond students receiving diplomas has not increased dramatically, even if the percentage has.
Overall, city high schools are enrolling fewer students, allowing the percentage of students receiving diplomas to rise. Essentially, the same number of students is receiving diplomas; there are just fewer students overall.
In 2004, Richmond reported enrolling 2,191 students in the ninth grade as of Sept. 30, or 509 more students than the 1,682 students reported on the ninth-grade rolls on Sept. 30, 2013.