Slavery exhibit open at Library of Va.
10/28/2014, 5:55 a.m.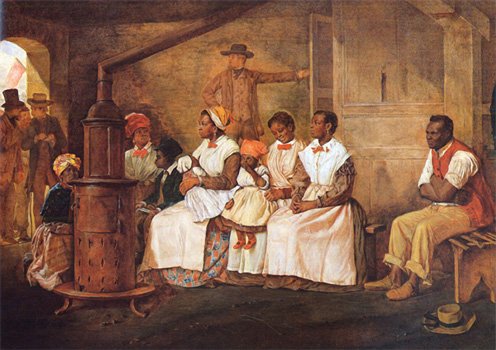 The year was 1853.
Richmond was the epicenter of the slave trade.
A traveling British artist looked through the city's newspapers and scanned notices of auctions of enslaved people alongside the advertisements for dry goods, medicines and runaway slaves.
Determined to document the barbaric sale of human beings through his paintings, Eyre Crowe went to an auction.
The resulting works by Mr. Crowe created an enduring image and record of Richmond's role in the enslavement of as many as 2 million Africans.
An exhibit of Mr. Crowe's works will open at the Library of Virginia on Monday, Oct. 27, and run through May 30, 2015, according to a library release announcing the exhibit.
Hours: 9 a.m. to 5 p.m., Mondays through Saturdays.
Location: 800 E. Broad St. in Downtown.
The free exhibit is titled: "To Be Sold: Virginia and the American Slave Trade."
Two paintings, "Slaves Waiting to be Sold," and "After the Sale," will provide compelling visual evidence of the unimaginably horrific domestic trade of enslaved people in America.
Curator and University of Virginia professor Maurie McInnis based the exhibition on her award-winning book "Slaves Waiting for Sale."
Richmond's slave-trading district also will be explored through more than 70 maps, paintings, insurance policies, bills of sale, broadsides and other items drawn largely from the library's extensive collections. The exhibition will trace what these images and manuscripts reveal about the slave trade from the time a slaveholder decided to sell a slave through the Richmond market to the moment when the enslaved person was sent South.
Among the loaned items on display will be an iron collar, paddle and whip from the Massachusetts Historical Society; leg irons from the Mariners Museum; an auction flag from the South Carolina Historical Society; Lumpkin's jail slave ledger from the Valentine and Mr. Crowe's paintings from the Heinz Family Foundation and the Chicago History Museum.
The library also will offer workshops on researching African-American genealogy; a March 2015 symposium using video conferencing between Richmond (the front end of the interstate slave trade) and New Orleans (the major terminus); talks on the African American Narrative Project, an effort to collect the names of enslaved Virginians from the Library's vast collections; and a variety of other book talks and lectures.
Details on the exhibit: (804) 692-3592 or www.lva.virginia.gov.