Abuse hurts Rice, NFL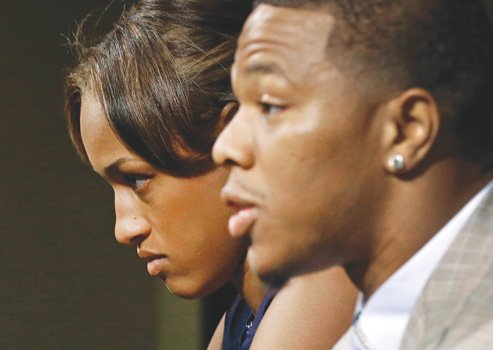 Ray Rice just became the face of domestic violence.
Once a star running back with the Baltimore Ravens, he's now a pariah.
The Ravens released him Monday, and the NFL suspended him indefinitely. Nike also dropped its endorsement deal with Mr. Rice.
The actions came after a video surfaced showing the three-time Pro Bowl player knocking out his then-fiancée as they fought on an elevator in an Atlantic City hotel last Feb. 15.
The video shows Mr. Rice, 27, cold-cocking the former Janay Palmer with a vicious left-handed punch during the altercation.
Mr. Rice is 5-foot-8, 206 pounds and far stronger than the woman who married him after this incident and who this week lashed out at all the media attention.
The incident has long been known and led to Mr. Rice being suspended for two games based on a previously released video that only showed Mr. Rice dragging his unconscious fiancée out of the elevator.
The new one, taken from inside the elevator, was published Monday on the TMZ website and gave a more complete and shocking view of what took place.
The video, which has been repeatedly aired, shows Mr. Rice punching Ms. Palmer in the face and her hitting her head on an elevator railing before falling face down, unconscious.
It quickly drew fire from advocates against domestic violence and action against Mr. Rice.
"The Baltimore Ravens terminated the contract of RB Ray Rice this afternoon," the team announced in a one-sentence statement hours later.
A short time later, Commissioner Roger Goodell of the National Football League issued its suspension of Mr. Rice, who was entering his seventh season as a pro.
Later, Mr. Goodell, who had been roundly criticized for earlier imposing only a two-game suspension on Mr. Rice, called the video "graphic and sickening."
Ravens head coach John Harbaugh, speaking to reporters after Mr. Rice was fired, said that the new video made a big difference.
"It's something we saw for the first time today, you know, all of us. And it changed things, of course. It made things a little bit different," Coach Harbaugh said.
Mr. Rice broke his silence Tuesday, telling ESPN, "I have to stay strong for my wife."
His wife, using online resources Tuesday, defended her husband and criticized the media and others she blamed for ending her husband's career.
"If your intentions were to hurt us, embarrass us, make us feel alone, take all happiness away, you've succeeded on so many levels," Mrs. Rice said. "Just know we will continue to grow and show the world what real love is."
Critics expressed astonishment that the NFL had not obtained and viewed the video as TMZ had done.
Mr. Goodell told CBS that "no one in the NFL, to my knowledge" had seen the new video until it was posted online, and he indicated he did not have it available when he earlier decided on the two-game suspension.
"We never assumed that there was a video," he said. "We asked for video. But we were never granted that opportunity.