Trojans on road again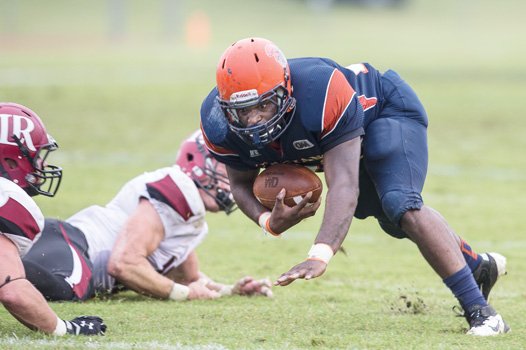 Virginia State's long run of success began a year ago against Kentucky State.
The Trojans are hoping for a similar script this go-round.
Now 0-2 following a 34-6 Rogers Stadium defeat to powerful Lenoir-Rhyne, VSU will travel 538 miles to state capital Frankfort to face Kentucky State.
VSU started last season 1-1 under first-year coach Latrell Scott, then reeled off eight straight wins, starting with a 41-0 win over KSU en route to the CIAA North crown.
The Trojans' false start this fall wasn't totally unexpected.
Making his own schedule, Scott challenged his squad with daunting tests at California, Pa., (33-24 loss), and home with Lenoir-Rhyne, the defending NCAA Division II runner-up.
The assignments were made more dicey when considering VSU is breaking in freshman quarterback, Tarian Ayres, to a replace departed standout Justin Thorpe.
After passing for 325 yards at California, Ayres settled for 173 aerial yards against L-R and was sacked five times by the NCAA's No. 6-ranked Division II outfit.
The clouds are parting and the skies ahead are brighter.
VSU likely will be favored every game the rest of way. The Trojans were preseason favorites to win the CIAA North a second year in row.
Against Lenoir-Rhyne, VSU got its first solid look at freshman Earl Hughes, and liked what it saw. The elusive newcomer from L.C. Bird High caught three passes for 54 yards, ran back three kickoffs for 62 yards and rushed 11 yards on four carries.
Hughes originally gave a verbal commitment to Delaware State before opting for VSU.
At tailback, Hughes is behind converted linebacker Kavon Bellamy, who scored the lone TD in the third period and gained 75 yard on 21 totes.
Another emerging VSU standout from L. C. Bird is linebacker Andrew Faison Jr., son of former Trojans' coach Andrew Faison Sr., now an assistant at Delaware State.
VSU won't face foe L-R's caliber again unless it reaches the CIAA title game (where three-time defending champ Winston-Salem likely awaits) or the NCAA playoffs.
The Trojans have never made the NCAAs, but that is a Scott goal. And that's why he made such a demanding slate — to provide a flavor of top-tier Division II football.