VSU opens at home on Saturday; defeated Lenoir-Rhyne University in first game
Fred Jeter | 9/9/2016, 6:33 p.m.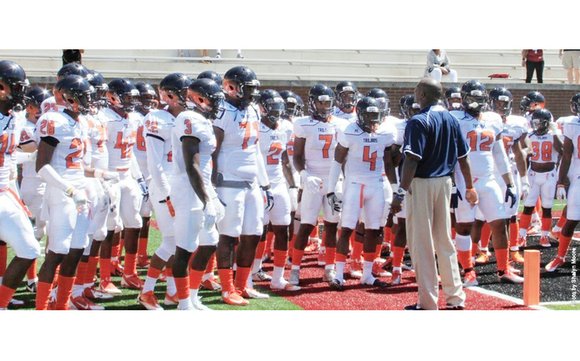 So far so good.
After just one game, Virginia State University football Coach Reggie Barlow has earned a Gatorade shower, a game ball and, best of all, a resounding road victory.
The Coach Barlow era began gloriously last Saturday with a 34-9 victory over Lenoir-Rhyne University in Hickory, N.C.
The Trojans are favored in this Saturday's home opener against Tusculum College, a program VSU routed last year 40-13 in East Tennessee.
Upending a formidable opponent such as Lenoir-Rhyne University on foreign turf provides much momentum for the home opener.   
"Today was a great way to start our season against a very good team," said Coach Barlow. "The guys came out with the type of energy and enthusiasm we want. It was a blessing."
Lenoir-Rhyne was the NCAA Division II runner-up in 2013 and the South Atlantic Conference champ from 2011 through 2014.
The North Carolinians pounded VSU 34-6 in Ettrick in 2014 in Coach Latrell Scott's final season.
Tusculum College, also of the South Atlantic Conference, comes to VSU with a 0-1 record following a 13-10 loss last week to the University of Virginia-Wise.
Coach Barlow's first game on the Trojans' sidelines couldn't have gone much smoother.
Then there was celebration.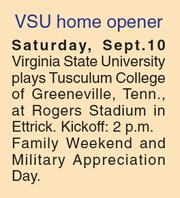 In the seconds following the victory, the Trojans drenched their coach with Gatorade in good fun.
Next, defensive lynchpin Geo Feggins presented Coach Barlow with the game ball.
VSU attacked Lenoir-Rhyne University by air with third-year starting quarterback Tarian Ayres and overland with Kevon Bellamy, Trenton Cannon and Stephen Mines.
Ayres, from Buckingham County High School, hit 17 of 24 passes for 201 yards and two touchdowns.
Bellamy ran 13 times for 85 yards and two touchdowns as VSU accumulated 244 yards rushing.
Cannon carried 15 times for 66 yards and a touchdown, while adding 72 yards and another touchdown on pass receptions.
Mines, a VSU sophomore from L.C. Bird High School in Chesterfield County, added 51 yards and his first college touchdown on six carries.
"It's a great feeling. Getting my first (touchdown) feels great," said Mines, who was part of Bird High School's 2014 Division 5 state championship.
Pre-season All-CIAA pick Feggins, from Park View High School in South Hill, led a revved-up defense with 15 tackles, including three for losses.
Bryant Frazier, from Meadowbrook High School, had 2½ of the team's four quarterback sacks, and Bryce Bradley, from Varina High School, returned a fumble recovery for 44 yards.
Coach Barlow, having previously coached at Alabama State University, is VSU's fourth coach since 2012.
He follows Coach Byron Thweatt (2015), Coach Scott (2013 and 2014) and Andrew Faison (2012).
The Trojans travel to Kentucky State University on Sept. 17 before opening their CIAA schedule Sept. 24 at defending champion Winston-Salem State University.