VSU opens on the road at Lenoir-Rhyne University
9/2/2016, 4:09 p.m.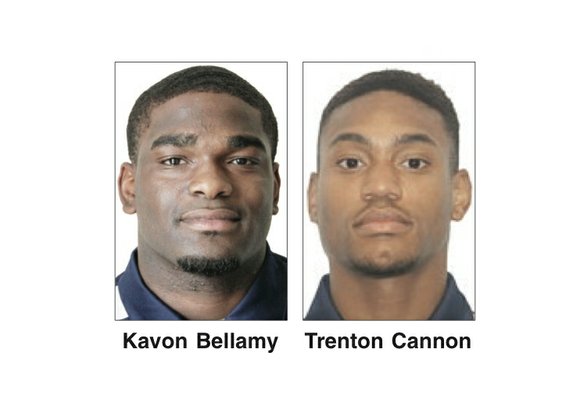 Coach Reggie Barlow had the good fortune in 1999 to play on a Jacksonville Jaguars squad that showcased two of NFL's elite ball carriers — Fred Taylor and James Stewart.
Now in his first season coaching football at Virginia State University, Coach Barlow sees a similar situation, relative to competition, with his own Kavon Bellamy and Trenton Cannon.
"I've been blessed," said Coach Barlow whose Trojans open Saturday, Sept. 3, at Lenoir-Rhyne University in Hickory, N.C. Kickoff is at 2 p.m.
"In Jacksonville, they called Fred 'Thunder' and James 'Lightning.' I hate to put the pressure on them, but with us, Kavon is 'Thunder' and Trenton is 'Lightning.' "
In 1999, Jacksonville posted a 14-2 regular season record, with Taylor and Stewart combining for nearly 1,700 yards and 19 touchdowns.
Coach Barlow was a receiver for the Jaguars that season under Coach Tom Coughlin.
Optimistically, Coach Barlow is hopeful Bellamy and Cannon can approach and perhaps scoot past 2,000 yards combined.
"It would be great to see them each get 1,000 plus," said Coach Barlow. "If you can move the ball on the ground and not turn it over, you've got a solid chance of winning."
The VSU Trojans were 6-4 last season with excruciating losses to Bowie State (22-19) and Virginia Union (28-27) universities that easily could have been reversed.
Cannon set VSU's one-season mark of 1,178 yards a year ago, averaging 6.8 yards per carry. Cannon is also a dynamic kick returner and pass receiver.
Bellamy, after missing much of the first half of the season with a leg injury, finished with 640 yards, averaging 5.6 yards per carry.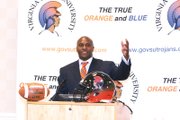 When not toting the leather, he is a pounding lead blocker.
"Kavon runs with an attitude," said Coach Barlow. "Trent is a slasher, quick to the edge."
Both Bellamy, from Hampton High School, and Cannon, from Bethel High School in Hampton, are from the same football rich turf. Bellamy arrived at VSU as a linebacker but converted to fullback.
Cannon spent one season at Shepherd University in West Virginia before transferring to VSU and immediately establishing himself.
VSU has a veteran quarterback in Tarian Ayres, who is beginning his third season as a starter. The Trojans also have a veteran offensive line that includes seniors Chris Senn, Terry Johnson and Jahmil Haley.
"They've all been around and we're counting on them," Coach Barlow said of his burly blockers.
Coach Barlow becomes VSU's fourth coach since 2012.
Last year's head coach, Byron Thweatt, is now an assistant at James Madison University.
Coach Latrell Scott, who took the Trojans to back-to-back CIAA North titles in 2013 and 2014, is head coach at Norfolk State University.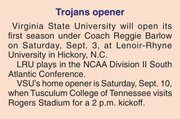 And Coach Andrew Faison, who was 58-53 in 11 seasons, is an assistant coach under Coach Scott at NSU.
Coach Barlow was 49-42 from 2007 to 2014 at his alma mater, SWAC affiliate Alabama State University in Montgomery.
VSU won the CIAA championship in 2014 and advanced to the second round of the NCAA Division II playoffs.
If the Trojans are to reach those destinations this year, they'll likely follow a football storm caused by their blue and orange version of "Thunder and Lightning."