VSU wins home opener
Fred Jeter | 9/16/2016, 7:08 p.m.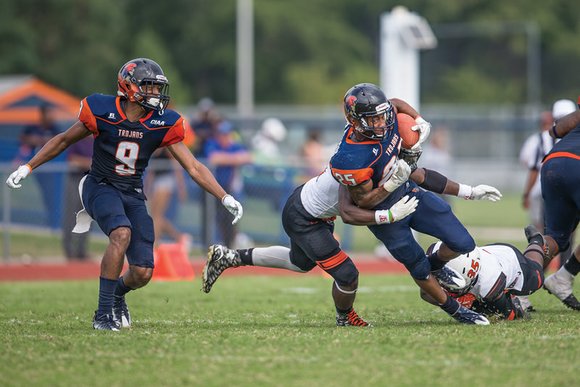 When former NFL wide receiver Reggie Barlow was hired as Virginia State University football coach, many felt he would install a wide-open passing game.
That may eventually come.
But so far, at least, it has been just the opposite.
Coach Barlow's inaugural season game plan at VSU has been much more foot soldier than air force attack during an impressive start.
After defeating Tusculum College of Tennessee 24-10 last Saturday at Rogers Stadium in Coach Barlow's first home appearance, VSU is 2-0 and looking for more against Kentucky State University on Saturday, Sept. 17.
If victorious in the Kentucky capital of Frankfort, VSU will start 3-0 for the first time since 1997, when Lou Anderson was coach.
VSU would appear to be the favorite.
Kentucky State lost 57-7 at Charleston Southern University and 14-3 last Saturday at Morehouse College in Atlanta.
VSU has defeated the Kentucky State Thorobreds of the Southern Intercollegiate Athletic Conference three straight years, twice under Coach Latrell Scott and a year ago under Coach Byron Thweatt.
Led by bone-jarring senior Kavon Bellamy and dynamic junior Trenton Cannon, the VSU Trojans have demonstrated a relentless offense overland.
Consider these two-game statistics:
• Rushing yards: VSU 501, opponents 202
• Yards per carry: VSU 5.3, opponents 2.6
• First downs on ground: VSU 31, opponents 12
• Touchdowns rushing: VSU 6, opponents 1
A healthy Bellamy is a difference maker. He bull-rushed the line 20 times for 136 yards against Tusculum College.
Cannon, who was All-CIAA a year ago, added 58 yards on 14 tries, and quarterback Tarian Ayres scooted 53 more yards on 11 carries.
The 210-pound Bellamy, a former Hampton High School star, missed two complete games last year and was less than 100 percent in several more because of a nagging ankle injury.
Still, Bellamy ran for 640 yards and six touchdowns in limited duty in 2015.
As a sophomore, he toted the ball for 989 yards and 13 touchdowns.
A converted offensive operator, Bellamy spent his freshman year at defensive linebacker.
It's not like VSU is stuck in run mode.
Ayres, the third-year starting quarterback, is capable of attacking more through the air if opponents are able to slow down the ground and pound.
The senior from Buckingham tossed for just 53 yards against Tusculum College.
Making five receptions for 41 yards was Willie Stubblefield from Highland Springs High School.
Defensively, Geo Feggins, Bryant Frazier and Daryl Irby had sacks and Trevon Bryant, TyQuante Simms and Shakym Peters made interceptions. 
The Trojans might want to keep their bags packed.
On Sept. 24, the team travels to Winston-Salem State University in a rematch of the 2014 CIAA title game won by the Trojans.
The Trojans return home to Rogers Stadium on Oct. 1 for a 6 p.m. match against CIAA opponent Livingstone College. Homecoming is Oct. 22 against Lincoln University.