Drums, dance play greater role in worship services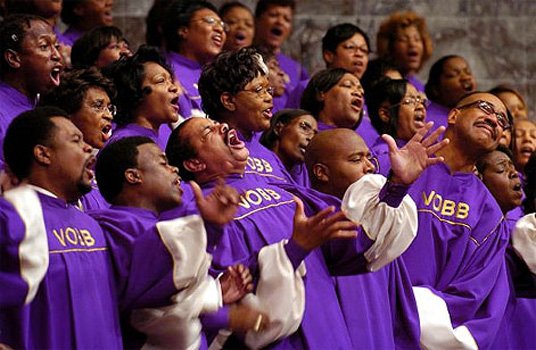 U.S. congregations are marching to the beat of their own drums now more than ever.
The 2014 National Congregations Study of churches, synagogues and mosques — the third look since 1998 — finds more congregations are:
Opening their doors to gays and lesbians in active membership and in leadership.
Showing racial and ethnic diversity in the pews.
Encouraging hand waving, amen shouting and dancing in the aisles during worship.
Disconnecting from denominational ties, doctrines and rules that might slow or block change.
The findings released Sept. 11 are based on interviews with leaders at 1,331 representative congregations and updates data presented in the 1998 and 2006 studies.
Mark Chaves, the Duke University religion professor who directed the three studies, said he was surprised by how much the acceptance of gays and lesbians has risen since 2006, when the study first asked about gay involvement in religious congregational life.
Congregations that "permit full-fledged membership for openly gay or lesbian couples in a committed relationship" climbed to 48 percent in 2012, up from 37 percent in 2006, Dr. Chaves said. The newly released study is based on 2012 survey results.
Most congregations still draw a line at permitting gays to take leadership positions, although the number of congregations allowing gays in leadership is rising, the study found. Currently, 26 percent of congregations allow gays in leadership posts, up from 18 percent eight years ago.
A look by regions shows this liberalization roughly mirrors the state-by-state legalization of same-sex marriage, which began in New England then swept down to the mid-Atlantic and west to California. 
The standout exception: Only about 4 percent of white conservative evangelical or fundamentalist churches permit gays in leadership roles.
Meanwhile, Roman Catholic churches turned more sharply conservative since 2006.
The percentage of Catholic churches permitting full-fledged membership for gays dropped to 53 percent, down from 74 percent of congregations eight years ago, according to the study. And those permitting gays in leadership roles fell to 26 percent from 39 percent, the study found. 
For women, however, there has been no statistical progress overall since the first study was released in 1998.
Despite a handful of recently named women senior pastors, the percentage of congregations with a woman in the top post has been locked at roughly 11 percent during the last 16 years.
The study found that America's largest religious groups — Catholics, Southern Baptists and Mormon churches — do not ordain women or allow them to lead congregations.
Diversity has increased in predominantly white congregations.
The study found that just 11 percent of congregations had an all-white membership, down from 20 percent in 1998. Most reported African-American, Asian and Latino members.
Still, in an upcoming issue of the "Journal for the Scientific Study of Religion," Dr. Chaves wrote, "We do not want to overstate the significance of this increasing ethnic diversity within American congregations. Eighty-six percent of American congregations (containing 80 percent of religious service attendees) remain overwhelmingly white or black or Hispanic or Asian or whatever."
The trend toward informal, entertaining and exuberant worship services continues to climb, the study found.
For example, 80 percent of people attending black Protestant congregations reported that people jump, shout or dance during the main service, up from 66 percent in 1998, the study reported.
Overall, more people attend congregations where drums are played during the main service — 46 percent in 2012 compared with 25 percent in 1998. The use of drums and other instruments increased in every faith tradition, the study found.
And this worship-in-motion trend has increased among people who attend evangelical or fundamentalist congregations. The study found 25 percent of such congregations have drums and dancing, up from 16 percent in 1998.
However, that style of worship is still rare in Catholic, Methodist, Presbyterian and Episcopal churches, the study found.