Richmond celebrates 150 years of emancipation
Joey Matthews | 4/9/2015, 12:23 p.m. | Updated on 4/10/2015, 6:27 p.m.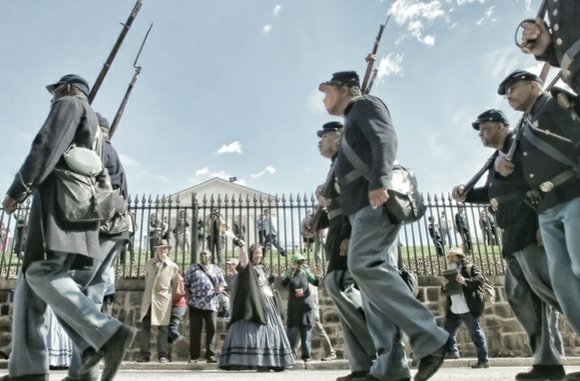 In the midst of the city that once served as a merciless marketplace for hundreds of thousands of enslaved black people, a diverse audience of thousands gathered Saturday at the State Capitol to celebrate the 150th anniversary of the liberation of Richmond from the slave-holding Confederacy.
The ceremony was marked by re-enactors in period dress and uniforms, uplifting music and speeches looking toward the future.
It was one of many celebratory and emotionally evocative events held in Richmond during the weekend to highlight the sesquicentennial of Richmond's emancipation by Union Troops of the capital of the Confederacy that led to the end of the Civil War and the start of freedom for millions.
Asa Gordon fought back tears as he helped lead United States Colored Troops re-enactors Saturday in the "Blue Coats Parade," symbolizing the Union Army's triumphant march into the smoldering ruins of Richmond on April 3, 1865.
He and other re-enactors drew loud cheers and applause from people — black and white, young and old — lining the parade route as they marched to the State Capitol for the ceremony led by Gov. Terry McAuliffe, Mayor Dwight C. Jones and other officials.
"It's a tremendous feeling knowing they are finally honoring the role U.S. Colored Troops played in the liberation of Richmond," said Mr. Gordon, who is secretary of the Sons and Daughters of the United States Colored Troops. "I'm overjoyed to be here."
Joyce Bailey of Greenbelt, Md., was among those cheering the U.S. Colored Troops re-enactors. As a member of FREED or Female Re-Enactors of Distinction, she portrayed Elizabeth H. Keckley, a Dinwiddie County native and black woman who was a seamstress and confidante to President Abraham Lincoln's wife, Mary Todd Lincoln.
"I think it's wonderful we came down here," said Ms. Bailey. "I'm overwhelmed by all of this."
So were others on the Capitol grounds.
"For me, this is a feeling of joy and jubilation," said Robert Hicks, 57, of North Side, who was joined by his wife, Shelia, along the parade route. "We used to hide this history, but we don't hide it anymore."
Nettie Epps of North Side said she refused to let her day be ruined by a lone man who waved a Confederate flag across the street from her near the State Capitol.
"I just wave the U.S. flag back," she declared. "After all this ended, the fact is we eventually became the United States, and I'm proud of that."
James Dixon, 57, didn't mince words in describing the actions of Confederate slaveholders as treasonous. He cited Article III, Section 3 of the U.S. Constitution.
"That makes the Civil War the biggest act of treason in American history and the Confederacy the biggest terror organization in U.S. history and their modern-day offshoots as terrorist organizations," he said.
As the U.S. Colored Troops approached the entrance to the Capitol, they were joined by other Union re-enactors and current military members. The group yielded to re-enactors from the Fort McHenry Guard Fife and Drum Corps, who led the colorful procession to the steps of the Capitol for the commemorative ceremony.
"Today is a reminder to all of us that we still have unfinished business in the goal of real equality for our nation," Gov. McAuliffe told a cheering audience of about 2,000 people at the ceremony.
"Just remember, 150 years ago right here, the Richmonders who tasted freedom for the first time in 1865 understood the importance of the right to vote and the right to education.
"We need to rekindle that spirit," Gov. McAuliffe added, calling on more Virginians to vote and support early childhood education.
The governor was joined on the Capitol steps by his wife, Dorothy; Mayor Dwight C. Jones; state Delegate Delores L. McQuinn of Richmond, who chairs the Richmond Slave Trail Commission; Christy Coleman, co-CEO of the American Civil War Museum; and Joe Funk of York, Pa., who led Union Troops re-enactors into the State Capitol, portraying one of his ancestors, Maj. Gen. Godfrey Weitzel, who led the Union troops into Richmond in 1865.
To the right of those officials stood the Virginia Union University choir, which performed two soul-stirring songs — "I Can Only Imagine" and "Bound for Canaan's Land" — under the direction of Dr. Willis Barnett, before the appreciative audience.
Mayor Jones told the audience, "Richmond has come a long way" since its liberation at the end of the Civil War.
He cited as examples two Richmond African-American trailblazers — Maggie L. Walker, the first female bank president in the United States, and L. Douglas Wilder, the nation's first elected African-American governor.
The mayor saluted Virginia Union — now celebrating its 150th anniversary — and its transcendent rise from the ruins of the former slave-holding pen known as Lumpkin's Jail in Shockoe Bottom to its current home on Lombardy Street, where it has produced leaders in medicine, law, politics, social work and other fields.
"I stand before you today as a testament to Richmond's journey, a product of my alma mater, Virginia Union University," he proudly stated.
Delegate McQuinn said the sesquicentennial provided Richmond the opportunity to unearth its shameful history "and rewrite the history books."
Ms. Coleman passionately urged the crowd to "reclaim this Emancipation Day as the day when we all free ourselves from past denials and anger and hurt to be able to move our nation forward."
One attendee, City Council member Jonathan T. Baliles, 1st District, called the ceremony "a phenomenal event. The community organizers did a great job of creating a dialogue and opening a lot of people's eyes to the stark realities of the Civil War's end and the emancipation of enslaved people."
Tyson Gilpin, a Winchester attorney, said it was high time recognition had come to African-American heroes, the brutalized enslaved people and others that history has long ignored. "I'm just bowled over by the speeches and significance of this," he said.
The celebration of Richmond's liberation as the epicenter of the slave trade kicked off last Thursday night when hundreds of people took illuminated walking tours. They viewed special effects lighting on Downtown buildings, restaurants and storefronts representing the burning of Richmond on April 2, 1865, by fleeing Confederates.
On Friday evening, under the theme of "Self Determination," a diverse group of about 300 people solemnly gathered at the site of Lumpkin's Jail and the African Burial Ground in Shockoe Bottom to pay homage to the endurance and emancipation of African ancestors and to those enslaved and free people of African ancestry who were laid to rest in the burial ground, located east of Interstate 95.
Ana Edwards, chair of the Sacred Ground Historical Reclamation Project, led a walking tour of the former slave trading area late Friday afternoon. She led two more on Saturday. The tours were designed to mark the historical significance of the area near where Mayor Jones has proposed an African-American heritage site, a minor league baseball stadium, hotel, grocery store, condominiums and parking lots.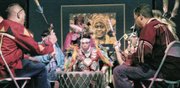 At 10 different stops on Friday, John Moser of Moser Productions posted temporary historical markers, describing important events, issues and people related to the sale and trade of enslaved people.
At the final stop, Ms. Edwards told the attentive audience the story of Lumpkin's Jail, also known as the "Devil's Half Acre," where enslaved people were imprisoned until they could be auctioned off like cattle into slavery or starved, beaten or killed.
She spoke of Anthony Burns, a former enslaved person born in Stafford County. He escaped to freedom in Boston, only to be captured like an animal and returned to enslavement at Lumpkin's Jail in 1854, where he was chained to the floor.
In 1855, supporters purchased Mr. Burns' freedom. He later attended Oberlin College and became a minister. He died shortly thereafter at age 28 from health complications related to his enslavement.
Indee Jordan, a mental health counselor in Chesterfield County, walked the tour with her 2-year-old son, Ahkbar. "My husband and I have made a commitment to take all of our children to events like this so they know their history," she said. "This is history that is not being taught in schools."
The crowd then assembled under a big tent, where Ashby Anderson introduced his original jazz composition, "Undertones," performed by about a dozen musicians known as the "Afrikan Arkestra." The moving piece paid tribute to the rich culture from which Africans were ripped and their determination to regain their freedom and retain their cultural identity.
Afterward, audience members participated in a candlelight procession to the African Burial Ground and a ceremony to symbolically free the souls of the enslaved people buried there.
Saturday night, an audience of several hundred people gathered under the big tent in Shockoe Bottom for a libation ceremony by the Elegba Folklore Society and performances from Grammy-nominated singer Maimouna Youssef, the Native American group Red Crooked Sky, Piedmont blues singer Boo Hanks and Richmond-based Drums No Guns.
The weekend event was organized by a coalition of organizations called the Future of Richmond's Past.
Next up: A five-day commemoration in Appomattox, Va., of the surrender of Confederate Gen. Robert E. Lee to Union Gen. Ulysses S. Grant at Appomattox Court House on April 9, 1865. The events began Wednesday, April 8, and will continue through Sunday, April 12.
For a full list of events: www.appomattoxcountyva.gov or (434) 352-8987.