When Freedom Came, Part 1
Elvatrice Belsches | 4/2/2015, 12:03 a.m. | Updated on 4/2/2015, 12:03 a.m.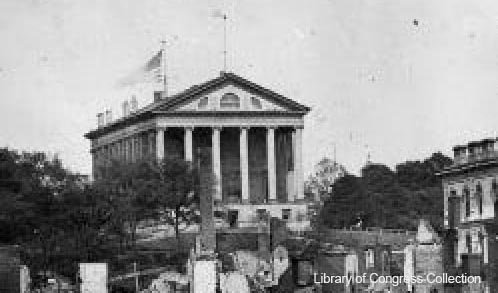 The Free Press presents a three-part installment chronicling the African-American experience during the liberation of Richmond in April 1865 and the final days of the Civil War. This is Part One.
The evacuation of Richmond had been rumored for weeks.
It was late March 1865, and Richmond, the capital of the Confederate States of America, was suffering from a lack of food and fuel, as well as fatigue brought on by a Civil War that had taken its toll over the previous four years.
The city, whose pre-war population had swelled from roughly 38,000 to more than 100,000 with an influx of refugees fleeing from the fighting, was still working to support a Confederate army that had been under siege by federal Union troops for the last nine months just 23 miles south in Petersburg.
If Union forces could capture Petersburg, then Richmond would fall soon after. Capturing the Confederate capital essentially would bring an end to the war and to a death toll nearing 700,000 by recent estimates.
It also would mean a fateful and fitting end to a way of life that for more than two centuries had depended on the free labor of black people.
Slavery fueled Richmond's economy. The work of enslaved and free black people in households and as laborers, stevedores and artisans sustained and grew the city's tobacco industry, ironworks, mills and other commerce.
Richmond and its many merchants also prospered from the export of slaves. Thousands of black people were bought and sold from the dozens of slave auction houses in Shockoe Bottom, making Richmond one of the largest sources of enslaved Africans on the East Coast from 1830 to 1860.
By 1865, as Richmond's population exploded, so, too, the city's black population grew from the roughly 12,000 enslaved and 2,600 free black people counted in the 1860 Census. So it was no wonder that news had traveled to Richmond and circulated widely among the city's black population that freedom might be near.
"The evacuation of Richmond for some weeks has frequently been announced in The Press as being actually in progress. It is now credited in the best military circles to such an extent as to make a disposition of the forces to meet such a contingency.
"The authorities obtain their information from scouts and reliable persons, which is to the effect that all cumbersome munitions of war and contraband property are being removed from the city. [Confederate Gen. Robert E. Lee] must either assault our works, and what is more difficult, defeat our armies, or vacate his stronghold, if he would save his hordes from immediate capture." – Thomas Morris Chester March 28, 1865
Thomas Morris Chester, the only known black reporter to cover the war for a major daily newspaper, was traveling among black troops with the Army of the James under Brevet Maj. Gen. A.V. Kautz and Maj. Gen. J. Godfrey Weitzel. He chronicled for the Philadelphia Press many of the significant final events in this tumultuous period in American history.