Spring football shows off offenses at VUU and VSU
Fred Jeter | 4/16/2015, 9:19 a.m.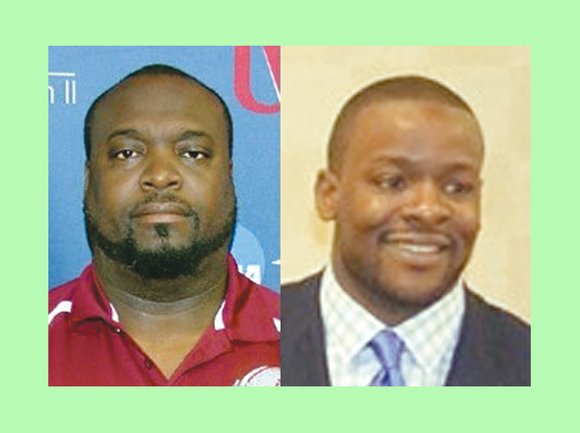 Offense and optimism are the key words following Virginia Union and Virginia State universities' spring football games.
Under second-year Coach Mark James, VUU's offense routed the defense 80-36 in the annual Maroon and White intrasquad game April 11 at Hovey Field.
VUU's Shawheem Dowdy, a 6-foot-4 sophomore transfer from Grambling State University, tossed six touchdowns passes.
Kenneth Graham, VUU's quarterback most of last season, is still rehabilitating from knee surgery and was held out of the game.
"What a difference a year makes," said Coach James. "Last year, we started off slow offensively … but tonight we came out and established ourselves and I feel really good about that."
In Ettrick, first-year Coach Byron Thweatt saw his offense nip the defense 32-28 at Rogers Stadium. Tarian Ayres passed for 194 yards, with two touchdowns to Jaivon Smallwood.
"With the talent from our recruiting class and our veteran leadership, I'm confident we'll have a successful season this fall," said Coach Thweatt.
Trenton Cannon, a transfer from Shepherd University in West Virginia, raced 109 yards on 11 carries. Cannon hails from Kecoughtan High School in Hampton, where he was the Peninsula District 100-meter dash champion.
A freshman of note on VSU's roster is Stephen Mines, an All-State running back out of State 5A champion L.C. Bird High School in Chesterfield County.
Taylor made: VUU's new quarterback coach is Troy Taylor, who has a reputation grooming quarterbacks.
In five years at Meadowbrook High School, Coach Taylor produced three All-Metro signal callers — Rod Nichols, Andrew Coble and Gerard Johnson.
Coach Taylor is no relation to VUU Athletic Director Joe Taylor or assistant Coach Aaron Taylor.
VUU recruits include quarterback Daniel Rose, who passed for 1,900 yards and 23 touchdowns last fall, leading Manchester High School to a 10-0 in-season record.
Rose was Conference Offensive Player of Year.
Spider webs: Coach Thweatt's staff of assistants has a strong connection to the University of Richmond Spiders.
Alex Stadler, Mark Carney and Jeff Hanson all worked with Coach Thweatt at one time or another as UR assistants.
Coach Thweatt took over at VSU after Latrell Scott left after two seasons to become head football coach at Norfolk State University.
Game wanted: VUU's Athletic Director Joe Taylor is trying to fill a 10th slot in the Panthers' 2015 schedule.
VUU opens what is now a nine-game slate on Sept. 5 against Brevard College at Hovey Field. The other non-CIAA game will be against Gardner-Webb University on Sept. 19.
For now, VUU has just four home games, including the Oct. 17 homecoming game against Chowan University.
Neither VUU nor VSU is playing CIAA Southern Division juggernaut Winston-Salem State University.
Virginia State's non-CIAA games are at home against California University of Pennsylvania on Sept. 5, at Tusculum College in Tennessee on Sept. 12 and at home against Kentucky State University on Sept. 19. Homecoming is Oct. 17 against Bowie State University.
VSU will play host to VUU Nov. 7 in Ettrick in the regular season finale. That same game last year in Richmond determined the CIAA Northern Division title.
VUU was 7-3 in Coach James' first season.
VSU's 10-3 record in Coach Scott's final season included CIAA Northern Division and overall titles and a first-round NCAA Division II tournament win over Long Island University-Post.