17th Street market makeover underway
8/18/2015, 12:37 p.m.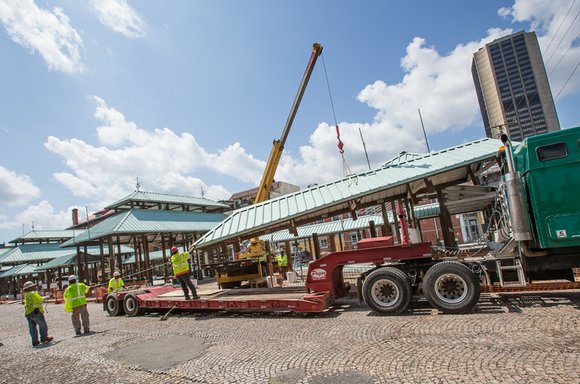 It has taken at least five years of planning and discussions, but the makeover for the old farmers' market in Shockoe Bottom is underway at last.
Pryor Hauling Inc. began removing most of the familiar metal sheds that were installed in the 1980s at the 17th Street Farmers' Market, according to a city announcement Monday.
While fencing has been placed around the project site, the streets will remain open. Also, the market's produce vendors and their stands are being moved to the Main Street end of the market
Removal of most of the sheds represents the first step in turning the farmers' market that is billed as the nation's oldest in continuous operation into a European-style public space that will include landscaping and outdoor seating.
When complete, the redone space also is to include a structure housing a year-round public market of food, crafts and other items and an open square for a variety of festivals and other seasonal activities.
Since 2012, the city has budgeted $2.5 million for the market's transformation that also calls for the creation of promenades along 17th Street between East Main and East Broad streets.
The market dates to 1779, the same year the General Assembly moved to Richmond from Williamsburg and a year before Richmond became the state capital in 1780. Three years after the market opened, Richmond was incorporated as a city in 1782.
The current work apparently is aimed at opening most of the space in time for next month's international bike race. The only sheds that will remain will be the middle bay and the end bays at East Franklin and East Main streets.
The work is part of $50 million the city is pouring into improvements, some of which are underway and some of which are still on the drawing board.

The projected investment includes the future development of a $10 million to $15 million outdoor museum recalling Richmond's history as a major slave market before Union troops captured the city at the end of the Civil War and liberated African-Americans.
The investment also includes a $33 million renovation of Main Street Station's massive train shed, which now is underway, as well as a planned redo of East Broad Street between 14th and 18th streets, and more than $2.7 million to reopen Franklin Street underneath the railroad tracks. — JEREMY M. LAZARUS