Broken promises end legacy at 17th Street Farmers' Market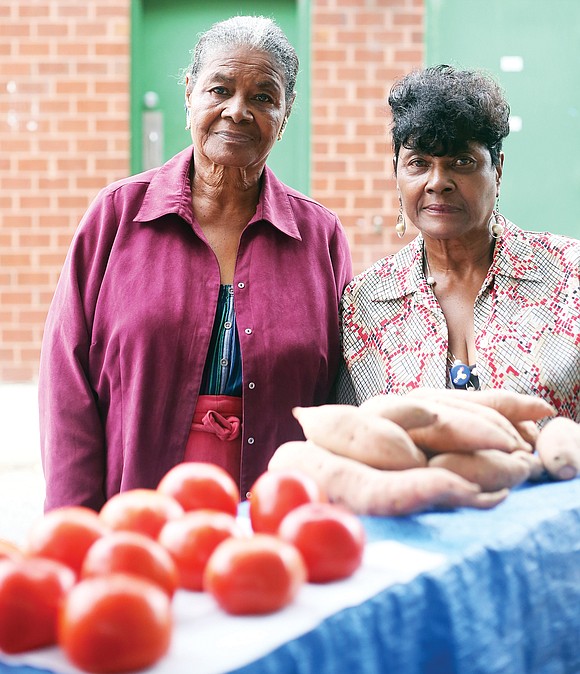 They have been fixtures at the 17th Street Farmers' Market in Shockoe Bottom for decades, just like their parents and grandparents before them.
Now, sisters Evelyn Luceal Allen, 84, and Rosa L. Fleming, 80, have closed their stand beside the market from which they daily sold greens, tomatoes, watermelons, potatoes and other produce grown on their land in Hanover County.
It's a big change for the market where they showed up seven days a week, winter as well summer, to sell.
According to the sisters, a trail of broken City Hall promises and a disastrous makeover of the historic market have driven away even steady customers, leaving the sisters mostly whiling away eight hours daily without a sale.
After four years of trying to hang on, the sisters closed for the last time on Sunday at the stand at Franklin and 17th streets, just outside the market. They had been consigned to the space since the city began in 2015 and went into full swing two years ago to overhaul the public marketplace that has been around for more than 280 years.
The result of the $3.6 million taxpayer investment at the farmers' market: A large, vacant and unattractive concrete slab stretching from Main to Franklin streets, a far cry from the tree-shaded European-style plaza the city said it would create for events and other people-attracting programs that also were to benefit the adjacent restaurants.
"We haven't made any money since they started," said Ms. Fleming, who, like her sister started stocking and selling as children at the family stand in Shockoe Bottom and at the once thriving but long defunct 6th Street Farmers' Market.
"We've had to borrow money to keep going," Ms. Fleming said. "We kept getting promised that things would change, but nothing has happened. No one followed through. We just can't keep waiting for the city to keep its word. It's just not right what they've done.
"If we were white, they wouldn't have treated us this way," Ms. Fleming said. "That's how I feel."
As they closed up, the sisters submitted a letter to Leonard Sledge, city director of economic and community development, the department that oversaw the makeover. They demanded the city pay them $36,000 each "to make this situation right."
For at least the past two years, as documented in email exchanges between an advocate for the sisters and city officials, Mayor Levar M. Stoney's administration kept promising to install new stands inside the market for the "legacy vendors," the two sisters and Timothy Christian, a fifth generation fruit and vegetable vendor who continues to operate on Main Street with hopes that customers might return.
City officials, including city architect Jeannie Welliver, who led the makeover project, have shown the legacy vendors various renderings of different kinds of stands the city was considering. But the space for the stands remains vacant, even after Mayor Stoney removed Enrichmond Foundation, a city-created nonprofit, from managing the market and put the city Department of Parks, Recreation and Community Facilities in charge on July 1.