Black churches do better weathering decline in number of Christian faithful
Religion News Service | 8/28/2015, 11:56 a.m. | Updated on 8/28/2015, 11:56 a.m.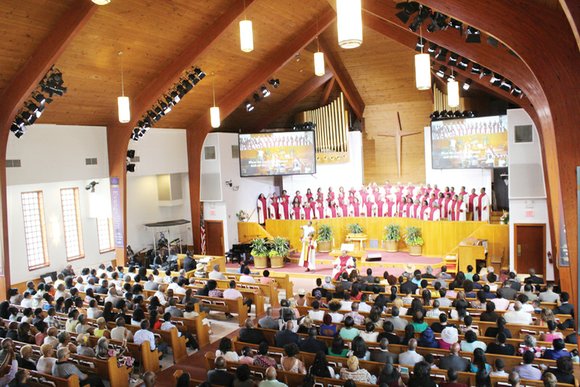 By Adelle M. Banks
At Alfred Street Baptist Church in Alexandria, the pews start to fill more than half an hour before the service begins.
Ushers guide people of all ages to their seats. Some stand and wave their hands in the air as the large, robed choir begins to sing.
In September, after using a dozen wired overflow rooms, the church will start its fourth weekend service.
So many people attend, church leaders are now asking people to limit their attendance to one service.
"Pick your service," said the Rev. Edward Y. Jackson, an assistant to the pastor, at the start of a recent service. "Come in, come early, get your parking space so we can all enjoy and worship God together."
A recent Pew Research Center survey found that Christians are losing their share of the U.S. population, dropping to 71 percent in 2014, down from 78 percent in 2007, with young people leading the exodus.
But historically black denominations have bucked that trend, holding on to a steady percentage of members during that same period.
As significant, the share of younger African-Americans who affiliate with historically black churches is similar to that of older churchgoers.
There are numerous reasons why some black churches retain their members, but, most prominently, the church has played a historic role in black life that has fostered a continuing strong black Protestant identity.
Members and visitors at Alfred Street believe the church's holistic ministry — the preaching, the singing and the community outreach — are what draw them in and keep them there.
"I think black churches have always been very pivotal in social movements and outreach," said Kelli Slater, 20, a Howard University student who was visiting Alfred Street at the invitation of her older sister. "I think black churches do a whole lot more than religion."
In late July, the church held its annual "Brother's Keeper" outreach project in which it gave 2,000 low-income children backpacks and winter coats and provided health screenings for their families.
In December, some members marched from the church to a local courthouse in support of the "Black Lives Matter" movement.
The Rev. David Daniels III, a church history professor at McCormick Theological Seminary in Chicago, said mostly black megachurches are gaining adherents even as smaller, aging congregations have dwindling numbers in their pews.
"In some cities, there are some congregations, often with younger pastors, who've been able to develop ministries that are able to attract teens and young adults," said Rev. Daniels, a minister of the Church of God in Christ.
The Rev. Howard-John Wesley, 43, has been pastor since 2008 of Alfred Street, which is affiliated with the historically black Progressive National Baptist Convention and National Baptist Convention USA.
He introduced a monthly "Come As You Are" Wednesday night service for young adults as well as his "Hour of Power" summer Sunday services.
In the last seven years, he said, his church membership has grown from 2,300 to 7,100 people and 80 percent of the new members have been in their mid-30s to early 40s. Total attendance on recent weekends has surpassed 3,000.