First family celebrates Easter at historic black church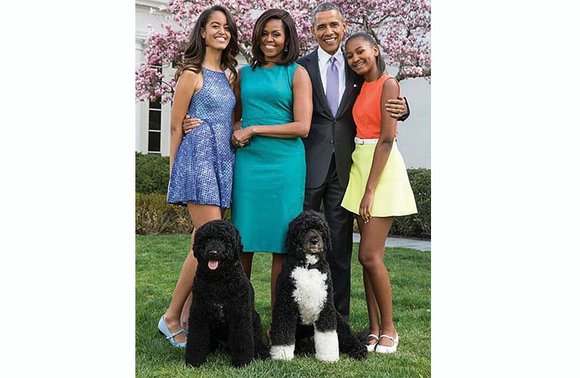 ALEXANDRIA
President Obama and the first family attended Easter service at a historic African-American church that traces its origins to the presidency of Thomas Jefferson.
The Rev. Howard-John Wesley, pastor at the 198-year-old Alfred Street Baptist Church in Alexandria's Old Town, welcomed back the Obamas, whom he described as "the gorgeous family." The Obamas also visited the church last Easter.
Streets around the church were blocked and people lined the sidewalk outside as they tried to get a glimpse of President Obama, First Lady Michelle Obama and their daughters, Malia, 17, and Sasha, 14.
The congregation, led by a choir clad in crimson, gold and white robes, joined in song early in the service, with Rev. Wesley asking them to share introductions, "but don't act crazy" as the hundreds in attendance exchanged hugs and handshakes.
Many in the choir and audience smiled as they swayed and clapped to the music and sang the refrain "yes, He lives," a reference to the resurrection of Jesus Christ, the event Christians celebrate on Easter Sunday.
Rev. Wesley delivered a sermon that noted the suffering Jesus endured, and he encouraged the congregation to have faith that if God could raise Jesus from the dead, he can help them get through their hardships.
"No matter what you're going through, you don't have to be afraid because God can handle it," Rev. Wesley said.
The Obamas spent about an hour at the service and returned to the White House, where workers and performers were preparing for the annual Easter Egg Roll that was held Monday on the South Lawn.
"Michelle and I join our fellow Christians in observing Good Friday and celebrating Easter this weekend," President Obama said in a statement released last Friday. "This is a time to remember the sacrifices made for us and hold all who suffer close to our hearts.
"Yet it is also a time to rejoice, give thanks for the Resurrection and unite with Christians around the world in proclaiming, 'Christ has risen; He has risen indeed.'
"We wish all who celebrate a blessed and joyful Easter."
An official photo of the first family was posted Sunday to social media.