Church backs away from Parson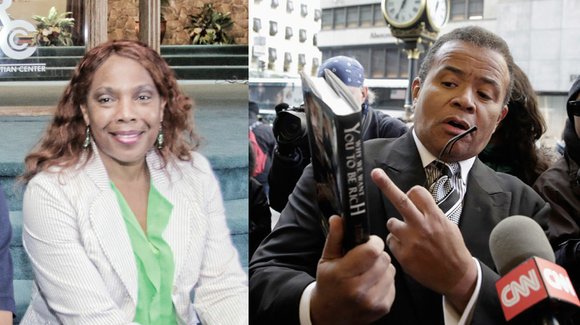 "You all are a bunch of black idiots over there supporting someone who doesn't care anything about black people," one angry caller said in a voicemail message left for the Richmond Christian Center last week.
Another caller chimed in: "If Donald Trump wasn't running for president, he would have nothing to do with you a-holes."
A third anonymous caller said, "Your pastor is an ignoramus. I doubt if he has any degrees at all."
These are a sampling of the nearly 50 messages — mostly negative — that people left during the past week via telephone, text messages and emails with the church in the 200 block of Cowardin Avenue on South Side, Rhonda D. Hickman, chair of the church's volunteer board, told the Free Press on Tuesday.
The inflammatory messages prompted the church to issue a statement distancing itself from the far right political leanings of its senior pastor, Stephen A. Parson Sr., who publicly endorsed Mr. Trump, the controversial GOP presidential front-runner, before national media audiences last week.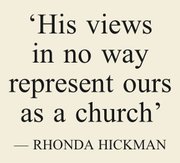 The church board is reacting to fears that Pastor Parson's endorsement of Mr. Trump, who commonly uses hateful and inflammatory rhetoric about African-Americans, Mexicans, women, immigrants, disabled people and others during his campaign, may hurt the church's fundraising efforts at a critical time when the church is trying to emerge from bankruptcy.
"The political views, opinions and party affiliations expressed by Stephen A. Parson Sr., founder of the Richmond Christian Center, are his alone, and do not reflect the views, opinions or positions, political or otherwise, of Richmond Christian Center's Board of Trustees and/or the congregation," the statement reads.
It went on to state that Pastor Parson has been on sabbatical from the Richmond Christian Center since January and that the church is being managed by a board, with Pastor Parson's return being "contingent upon the outcome of the Chapter 11 Bankruptcy proceedings."
Pastor Parson publicly endorsed Mr. Trump after he and 100 other African-American ministers had a two-hour meeting with the candidate Dec. 1 at Trump Plaza in New York City.
Pastor Parson appeared on national television afterward and told the Free Press at the time that he is leading a statewide coalition of black and Latino ministers who are backing the billionaire real estate mogul despite his bigoted stances.
On Monday, Mr. Trump called for a ban against all Muslims entering the United States, a position that has drawn national and international condemnation.

With Pastor Parson's very public support of Mr. Trump, messages began rolling into the Richmond church.
"Most were very abrasive," said Ms. Hickman, who along with two other board members, is overseeing church operations.
She said the volume of angry messages increased after Pastor Parson's interview Dec. 2 with Roland Martin, host of TV One's "NewsOne Now," and a front page article in the Dec. 3-5 edition of the Free Press detailed Pastor Parson's trip to New York and endorsement of Mr. Trump.
The board explained its statement was meant to quell the fears of people in their congregation and the community who mistakenly believe Pastor Parson's stance is backed by the Richmond Christian Center and that the church also is endorsing Mr. Trump.
Board members are concerned that people considering aiding the church's fundraising efforts to help meet the conditions of its bankruptcy agreement might back off in response to Pastor Parson's support of Mr. Trump.
"We need these funds in order to show we are going to be viable as a church," Ms. Hickman told the Free Press.
"There are people wondering if the pastor's statements of support for Mr. Trump are going to prevent some people from giving," she added. "We want the public to know that his views in no way represent ours as a church."
Ms. Hickman said the board attempted to contact Pastor Parson via phone and email since the church has been besieged with angry messages. But he failed to respond, she said.
The Free Press contacted Pastor Parson for his response to the church's statement.
"The church doesn't have anything to do with this," he said of his support of Mr. Trump. "I'm Steve Parson and if somebody asks me where I pastor, I tell them the name of my church. It's me that went up there to New York. I'm personally endorsing Donald Trump."