Protests continue after Chicago mayor's apology
12/11/2015, 6:18 a.m.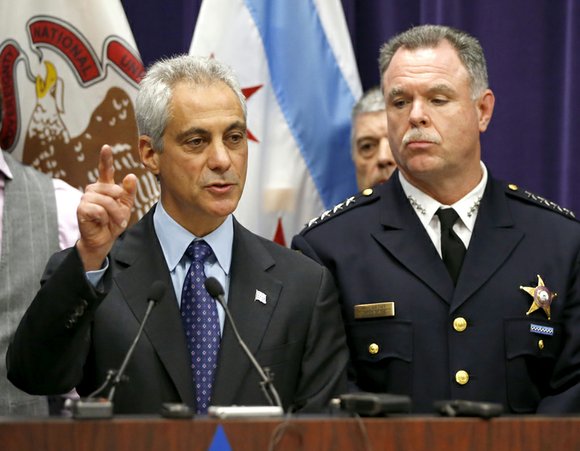 Free Press wire reports
Chicago Mayor Rahm Emanuel, under heavy criticism for his handling of a 2014 police shooting that resulted in the death of a black teen, gave an emotional apology Wednesday, hours before angry demonstrators closed city streets while demanding his resignation.
In a special address to the Chicago City Council, the mayor said, "I'm sorry," and promised "complete and total reform of the system."
Mayor Emanuel's speech was met with applause from the City Council, but demonstrators said the city's actions do not go far enough.
Hundreds filled downtown streets while chanting "No more killer cops" and "Rahm must go."
"This system is designed for us to be dead or in jail, and we're tired," said protester Jamal Wayne.
Mayor Emanuel's speech came after two weeks of protests in Chicago following the release of a 2014 police squad car dashcam video showing white police Officer Jason Van Dyke shooting 17-year-old Laquan McDonald 16 times. The officer was charged with first-degree murder late last month.
High-profile killings of black men by mainly white police officers in U.S. cities have prompted a national debate and protests about the use of excessive force by police.
On Monday, the U.S. Justice Department said it will investigate the Chicago police department over its handling of the McDonald case and the department's use of deadly force in other situations, among other issues, U.S. Attorney General Loretta Lynch told a news briefing.
"Our goal in this investigation ... is not to focus on individuals but to improve systems," she said.
Attorney General Lynch said federal officials would be investigating "constitutional violations" in one of the nation's largest police departments.
Two hours after her briefing, Cook County State's Attorney Anita Alvarez gave a detailed presentation to reporters explaining why she would not seek charges in another 2014 police shooting death of a black man.
Michael Oppenheimer, an attorney for the family of the dead man, Ronald Johnson III, called Ms. Alvarez's explanation a "joke," and protesters took to the streets Monday evening.
Ms. Alvarez, who has been under fire for her handling of the case involving Laquan, said Mr. Johnson, 25, was holding a gun and fleeing arrest when he was shot by Officer George Hernandez on Oct. 12, 2014.
Prosecutors showed police car dashcam video to reporters on Monday and played audiotapes of police radio communications and 911 emergency calls.
The grainy video, which has no audio, showed Officer Hernandez firing at Mr. Johnson as he ran into a park. Ms. Alvarez said Mr. Johnson had been asked repeatedly by multiple officers to drop his weapon, and that a 9mm semiautomatic pistol was found with him after he was shot.
Mr. Johnson's mother said the gun was planted by police.