Chicago police officer charged with murder in death of black teen
Reuters | 11/25/2015, 8:48 p.m.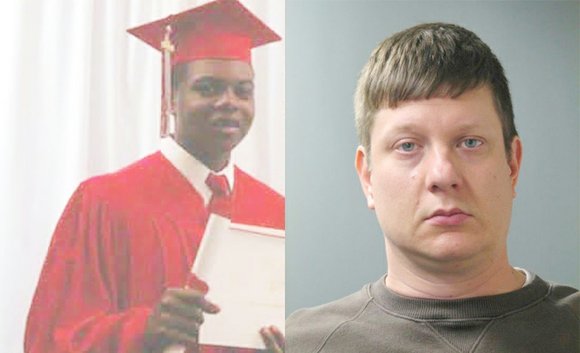 A white Chicago policeman was charged Tuesday with murdering a black teenager, and authorities are hoping to stave off a fresh burst of the turmoil over race and police use of deadly force that has shaken the United States for more than a year.
Officer Jason Van Dyke, 37, was denied bail at a hearing in Chicago's main criminal courthouse hours after prosecutor Anita Alvarez announced charges of first-degree murder, or killing without lawful justification. If convicted, Officer Van Dyke could face 20 years to life in prison.
At the brief court hearing, prosecutor Bill Delaney told Cook County Circuit Court Associate Judge Joseph Panarese that a video of the Oct. 20, 2014, shooting does not show Laquan McDonald, 17, who was armed with a knife, advancing on the officer, and that witnesses concur on that fact.
The judge scheduled another hearing for Monday, Nov. 30, and asked to see the video then in order to reconsider the issue of bond. Ms. Alvarez told a news conference that prosecutors moved up the timing of the charges ahead of the release of the video.
"With release of this video, it's really important for public safety that the citizens of Chicago know that this officer is being held responsible for his actions," Ms. Alvarez said.
Last week, a court ordered the release of the video taken by a police patrol car's dashboard camera showing Laquan being shot 16 times by Officer Van Dyke, who emptied his gun and prepared to reload, prosecutors said.
Officer Van Dyke has said through his lawyer and the police union that the shooting was justified because he felt threatened by Laquan.
"Clearly this officer went overboard and he abused his authority, and I don't think use of force was necessary," Ms. Alvarez said at a news conference after the hearing.
Prosecutors said Tuesday that Laquan was on the ground for 13 seconds between the time he first hit the ground and the moment Officer Van Dyke stopped shooting.
Mr. Delaney told the judge that Officer Van Dyke's partner saw the officer preparing to reload his weapon and told him to hold his fire.
Chicago authorities said they would make the dashcam video public Wednesday.
The altercation between Laquan and police officers on Chicago's southwest side began with a call that a knife-wielding man was trying to break into a trucking yard. Chicago police have said the teenager threatened them with a knife and slashed at the tires and windshield of a patrol car. He ignored a warning to drop the knife, officials said.
The video shows him moving away from police at the time he was shot, said a lawyer for the slain teenager's mother, who has seen the footage.
The city has paid the McDonald family a $5 million civil settlement, even though they did not file a lawsuit.
City officials, including Chicago Mayor Rahm Emanuel, and Laquan's family asked that the community respond without violence when the video is released.