Serena wins 19th major title
2/10/2015, 6:22 p.m.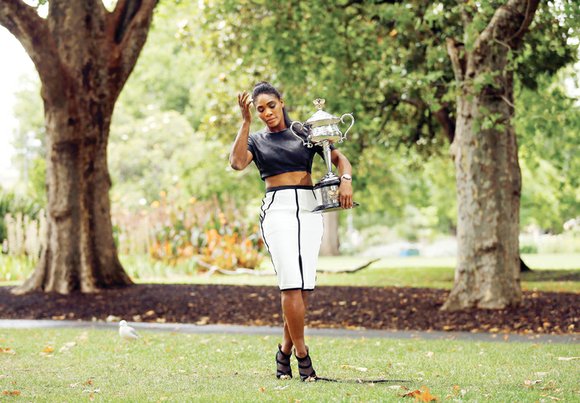 Reuters
MELBOURNE Ann ill Serena Williams gave Maria Sharapova an- other serving of grand slam heartbreak Saturday, Jan. 31, to win the Australian Open and bolster her claims to be the all-time greatest player with her 19th major title.
Though wheezing, coughing and forced off court by illness during a rain break, Serena's serve stayed in the rudest of health and her athleticism astonished in a nerve-shredding 6-3 7-6(5) victory under the lights of Rod Laver Arena.
In sealing her sixth title at Melbourne Park, Serena surpassed Martina Navratilova, the woman who handed her the trophy, and Chris Evert in grand slam title wins, while drawing level with fellow American Helen Wills Moody, third on the all-time list.
At 33, the oldest Australian Open winner in the professional era and still the boss, Serena left few in doubt that the pursuit of Steffi Graf's 22 titles and Margaret Court's 24 would continue.
"I would love to get to 22," the top seed told reporters, her voice still raspy from a weeklong cold.
"Nineteen was very difficult to get to. Took me 33 years to get here. So I would love to get there. But I have to get to 20 first, and then I have to get to 21.
"There are so many wonderful young players coming up, so it will be a very big task."
In her 19th match against Sharapova, and after defeating 19-year- old American Madison Keys in the semifinals, it was Serena's 18th ace that sealed the match on the third match point.
She bounded around the court like a woman possessed, squealing in delight as Sharapova, 27, sat quietly in her chair, nursing the pain of a 16th straight defeat by Serena and a third loss in grand slam finals to the American champion.
Steamrolled in the opening set, the five-time grand slam champion was magnificent in the second as she dragged herself off the canvas and staved off defeat twice on match points with crunching winners that teased the lines.
A 2008 winner at Melbourne Park, but runner-up to Serena in the 2007 tournament and again at Roland Garros in 2013, Sharapova's last win over the American came in 2004, when she was a 17-year- old sensation still finding her feet.