Serena loses at U.S. Open, but remains a champion
Reuters | 9/17/2015, 9:43 p.m.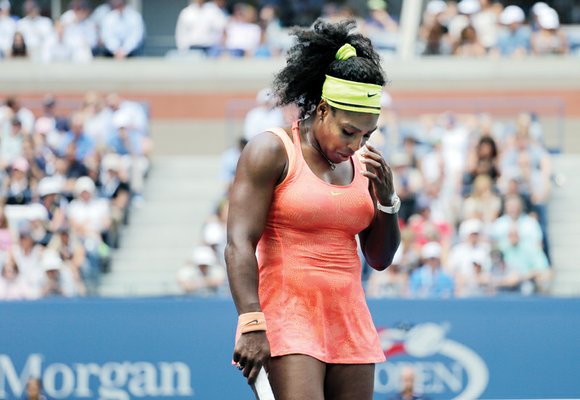 NEW YORK CITY
Serena Williams had been a vulnerable conqueror at this year's majors, living dangerously and dicing with defeat on numerous occasions as she tried to become only the fourth woman to complete a calendar Grand Slam.
Her luck finally ran out Sept. 11 at the U.S. Open on a court where she had not been beaten since 2011.
In her 12th, three-set contest of the electrifying 2015 run, Serena met her match in Italian doubles expert Roberta Vinci, who ended the American's bid for a share of tennis history with a shocking 2-6, 6-4, 6-4 upset victory in the semifinals.
Then on Saturday, Sept. 12, in an all-Italian women's singles final, Flavia Pennetta topped Vinci 7-6, 6-2. Pennetta then shocked everyone by announcing she was retiring from the sport.
In the men's final Sept. 13, No. 1 seed Novak Djokovic won his 10th Grand Slam title with a hard-fought 6-4, 5-7, 6-4, 6-4 win over Roger Federer.
Serena, dominating the sport at the ripe old tennis age of 33, repeated over and over to reporters after her loss that she felt no pressure in trying to add her name to a list comprised of Maureen Connolly (1953), Margaret Court (1970) and Steffi Graf (1988).
She tried her best to maintain that mantra after her stunning semifinal defeat on an Arthur Ashe Stadium court that had been so kind to her in the past.
"I don't want to talk about how disappointing it is for me," Serena said during a touchy post-match conference during which she repeatedly refused to answer questions.
"I told you guys I don't feel pressure," she insisted. "I never felt pressure. I never felt that pressure to win here. I said that from the beginning."
On court, the world No. 1 appeared impatient, flustered and weighed down by expectations against 32-year-old Vinci, over-hitting groundstrokes and second serve returns in an effort to overwhelm and discourage her. But Vinci refused to shy away from the daunting challenge.
It was only the third loss in 56 matches for Serena this year and came against an opponent who had never taken a set from Serena in four previous meetings and was appearing in her first Grand Slam semifinal.
Despite the defeat, Serena has nothing to be ashamed of after an extraordinary season produced Australian Open, French Open and Wimbledon wins to take her career Grand Slam total to 21, third on the all-time list behind Court (24) and Graf (22).
Her Wimbledon triumph enabled her to boast possession of all four grand slam titles at the same time for the second "Serena Slam" of her career after first accomplishing the feat when she won the 2003 Australian Open.