Serena breaks match record but loses U.S. Open
RFP wire reports | 9/16/2016, 6:40 p.m. | Updated on 9/16/2016, 6:40 p.m.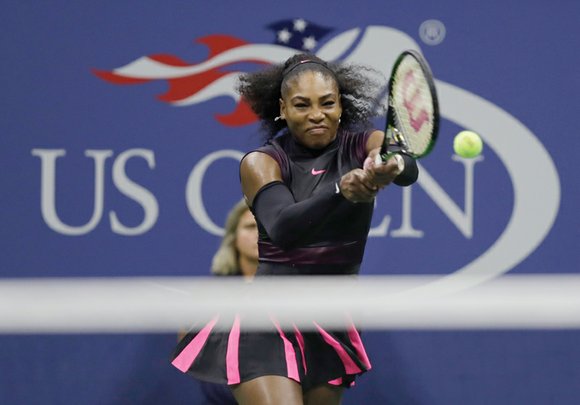 NEW YORK CITY
Serena Williams won her 308th Grand Slam match, surpassing Roger Federer with more victories in Grand Slam matches than anyone else in tennis' Open era, after beating Yaroslava Shvedova 6-2, 6-3 on Sept. 5 in the U.S. Open quarterfinals.
Unfortunately for the second straight year, Williams saw her bid for a seventh U.S. Open title halted in the semifinals with a 6-2, 7-6(5) loss to Karolina Pliskova on Sept. 8, that also ended her long reign ranked as the world's No. 1.
After 186 consecutive weeks as the world's top-ranked player, Williams, who needed to reach the final to have any chance of retaining the top spot, relinquished the ranking to Angelique Kerber last week.
Kerber went on to beat Pliskova in last Saturday's final for her second Grand Slam title of the season.
Kerber defeated Williams at the Australian Open in January, then was the runner-up to Williams at Wimbledon in July.
Kerber is the first woman from Germany to be ranked No. 1 since Steffi Graf, who has been a mentor for Kerber. Graf and Williams share the mark for most weeks in a row atop the WTA.
A year ago, Williams went into the semifinals on the cusp of a rare calendar-year Grand Slam but was the victim of one of the biggest upsets in tennis history when Roberta Vinci, a 300-to-1 longshot, prevailed.
This year, it was Czech 10th seed Pliskova, who until this week had never played beyond the third round of a Grand Slam, delivering the upset as she swept Williams off an Arthur Ashe Stadium court she claimed as her own in one hour, 26 minutes.
"I don't believe it. Actually, I do believe it," Pliskova said in a courtside interview. "I always knew I have a chance to beat anybody if I'm playing my game. But this is something amazing.
"Serena, she's a champion, so it's never easy to play her," she continued. "You saw even when she was down a break she's still fighting, so it's very hard."
Williams' very first win at a Grand Slam tournament came when she was 16 years old. It was a 6-7 (5-7), 6-3, 6-1 victory over Irina Spirlea in the first round of the Australian Open on Jan. 19, 1998. Williams' first loss at a major came in her next match, which happened to come against her older sister, Venus Williams.
Nearly two decades later, through plenty of highs and lows, from championships to health scares, the younger Williams is still at it — and still winning.
"It's a huge number,'" she said about getting to 308. "I think it's very significant, actually. I think it's something that just really talks about the length of my career, in particular. I've been playing for a really long time. But also, given that consistency up there — that's something that I'm really proud of."
Although her 36-year-old sibling is active, many of Williams' contemporaries have come and gone, including Justine Henin and Kim Clijsters, who are both younger, and Martina Hingis, who is only a year older.
"I definitely never thought I would be playing still," Williams said. "Now I don't really see when I'm going to stop because I'm just enjoying these moments out here, getting to break records that I didn't even know existed or I didn't even know was possible."
Over her career, Williams is 308-42 at the majors, for a winning percentage of .880. Here's the victory breakdown: 88 at the U.S. Open, 86 at Wimbledon, 74 at the Australian Open and 60 at the French Open.